Are you concerned about the theft of your images as a photographer, artist, or content creator using WordPress?
Although it is challenging to prevent image theft entirely, you can take measures to make it harder for individuals to steal pictures from your website.
This post will guide you on how to add no right-click functionality to your WordPress images and galleries, providing you with an additional layer of protection.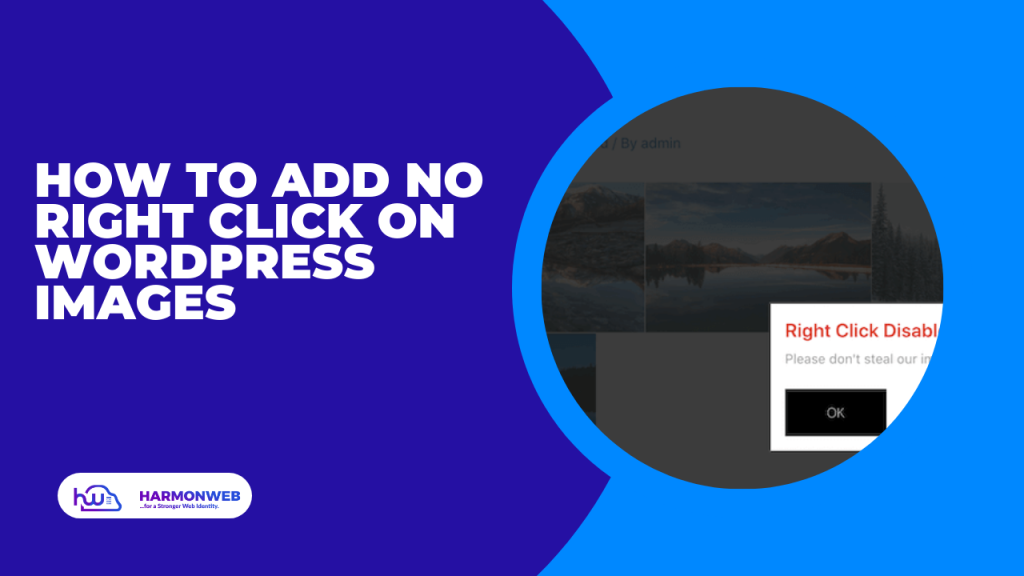 What's the Importance of Adding No Right-Click to WordPress Images?
The internet has revolutionized the way we share our work, but it has also given rise to the problem of image theft. Unscrupulous individuals can use your content to promote fraudulent products or even sell your digital art and graphics, profiting from your hard work without your consent.
In addition, if you have a large social media following, people might steal your photos and impersonate you online, using your identity to perpetrate affiliate marketing scams. Even if you run a simple WordPress blog, people could misuse your personal photos as part of fake ads or reviews.
To make matters worse, scammers can scrape your WordPress blog content and images, publishing it on other websites, which can harm your WordPress SEO with duplicate content. Although there is no foolproof solution to prevent image theft, you can take measures to make your site less vulnerable.
One effective strategy is to disable the right-click function on your WordPress images and galleries, which can discourage image theft. You can choose from several methods to do this, depending on your preference.
Method 1. How to Add No Right Click to All Your WordPress Images
To safeguard your images, you can use the No Right Click Images plugin, which allows you to prohibit right-clicking for images alone while leaving other content such as links open to right-clicking. This plugin also offers the ability to enable or disable right-clicking based on whether the user is logged into their account, making it useful for subscription-based sites like stock photo sites.
To get started with the plugin, install and activate it. Next, access the plugin settings by navigating to Settings > No Right Click Images after activation.

The default options should suffice for most users, but it's worth checking to see if any adjustments are required. These settings can help to address potential loopholes that users could exploit to circumvent the no right-click protection.
The plugin comes with a default setting that disables image dragging to prevent copying, so it's recommended to leave "Disable Dragging of images" checked. The plugin also disables touch and gesture events, which could prevent image theft on devices that use such actions. However, if you use images as links or buttons, or if your users interact with your pictures using gestures, such as before-and-after images, this can pose a problem. In such cases, you can re-enable support for touch events and gestures by unchecking the boxes next to "Disable Touch events" and "Disable Gesture events."

Visitors can still access a context menu and save your images on Apple devices by default. However, it's advisable to select "Disable context menu on Apple devices" to add a style to your images that prevents users from opening the Apple context menu and taking your images.

Once you're satisfied with your plugin settings, save your changes.
Finally, log out of your WordPress admin account and test the plugin by right-clicking on any image on your website. This will help to confirm that the plugin is working correctly.
Method 2. How to Add No Right Click to Image Galleries
If you're looking to protect individual images on your website, there's a simple method you can use. However, if you want to create a gallery of images on WordPress and disable right-clicking for the entire gallery, then Envira Gallery is the perfect solution.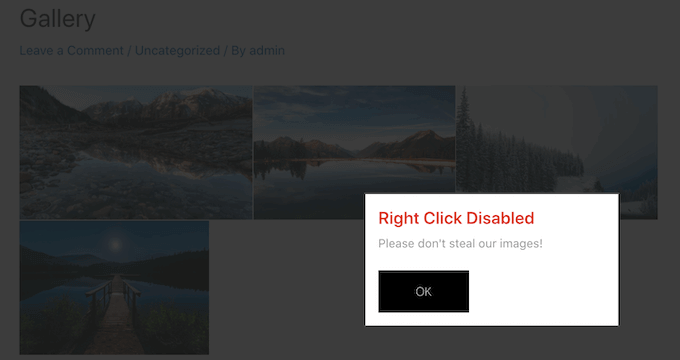 Envira Gallery is a top-rated WordPress gallery plugin that comes with a protection addon. This addon disables the right-click function on any galleries you create with the plugin, making it ideal for creating a photography portfolio or showcasing popular products.
To get started, install and activate the Envira Gallery plugin. Once activated, go to the Envira Gallery » Settings and enter your license key, which you can find on the Envira Gallery website. Click on 'Verify Key' to confirm.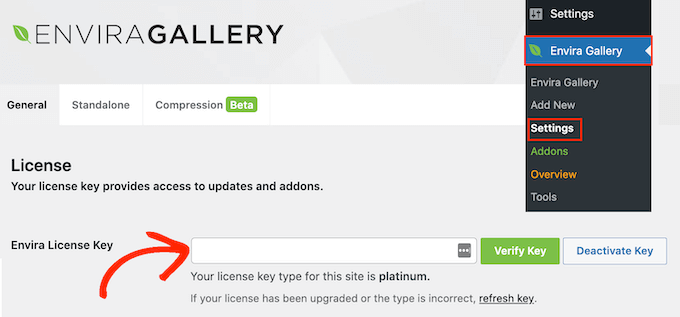 Next, head over to the Envira Gallery » Addons page, find the Protection addon and click on its 'Install' button. Activate it by clicking on the 'Inactive' slider to make it 'Active'.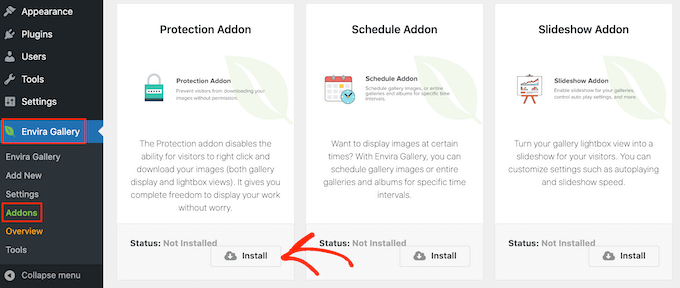 Once the addon is active, you can start creating your protected image galleries.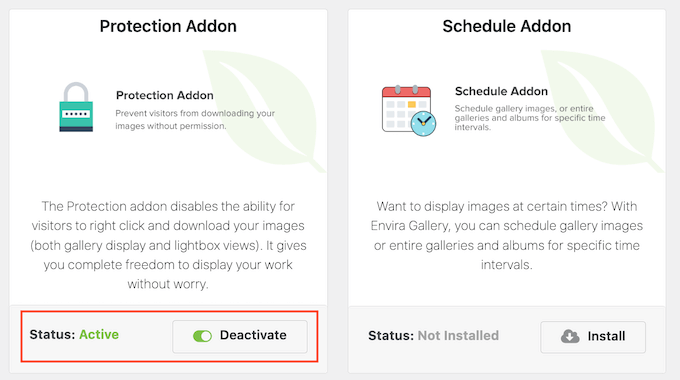 To do this, go to the Envira Gallery » Add New page, give your gallery a name, and add images from your computer or WordPress media library.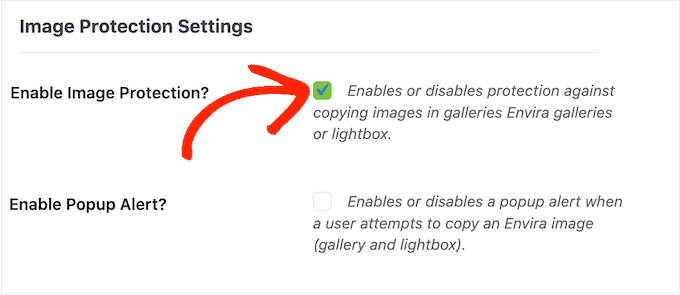 Under 'Image Protection Settings,' check the box next to 'Enable Image Protection' to disable the right-click function for all Envira galleries.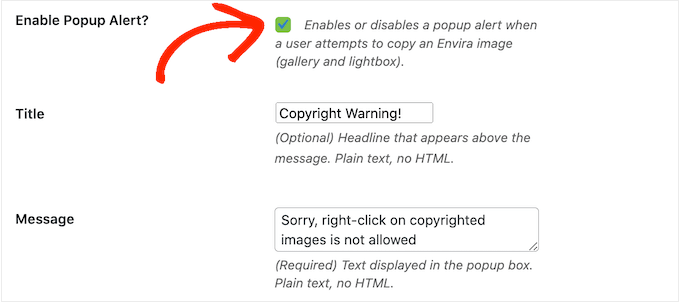 You can also choose to enable a popup alert to inform visitors that the images are copyrighted and cannot be downloaded without permission. You can customize the title, message, and button text of the popup.
When you're happy with your gallery settings, click 'Publish' to save them. To add the gallery to your website, edit the post or page where you want to display the images, click on the '+' icon, and select the Envira Gallery block. Choose the gallery you just created and click on 'Publish' or 'Update' to make the protected gallery live.
Overall, using Envira Gallery and its protection addon is an easy and effective way to create a stunning image gallery while ensuring your content remains protected.
If you liked this article, then please subscribe to our YouTube Channel for more WordPress video tutorials. You can also find us on Facebook.