Are you looking to assign an SEO Editor role on your WordPress website?
If you've employed an SEO professional to enhance your website's search engine optimization, it's recommended to create an SEO editor role for them to access your WordPress website securely.
This article will guide you on the simple steps to add an SEO editor role in WordPress.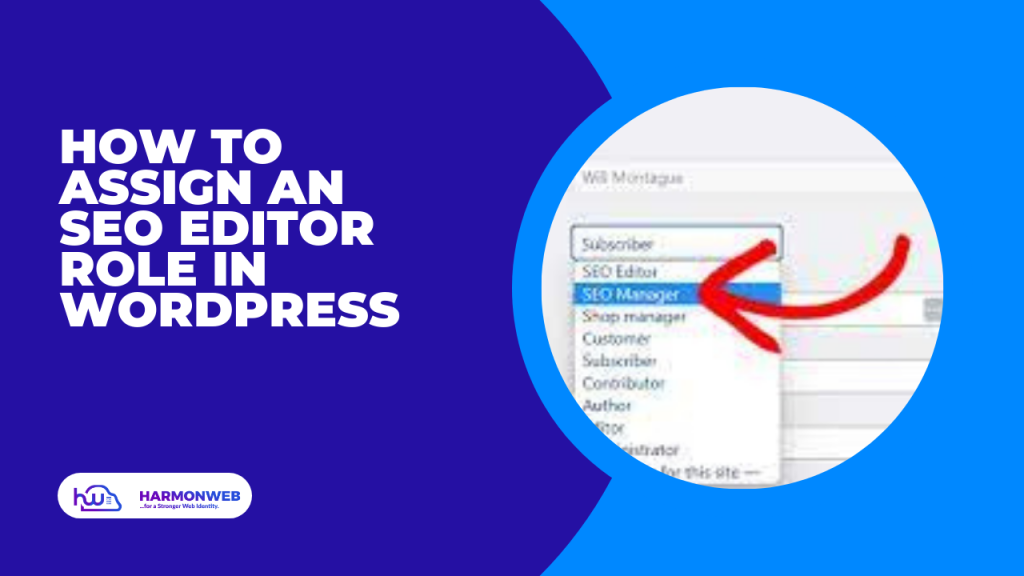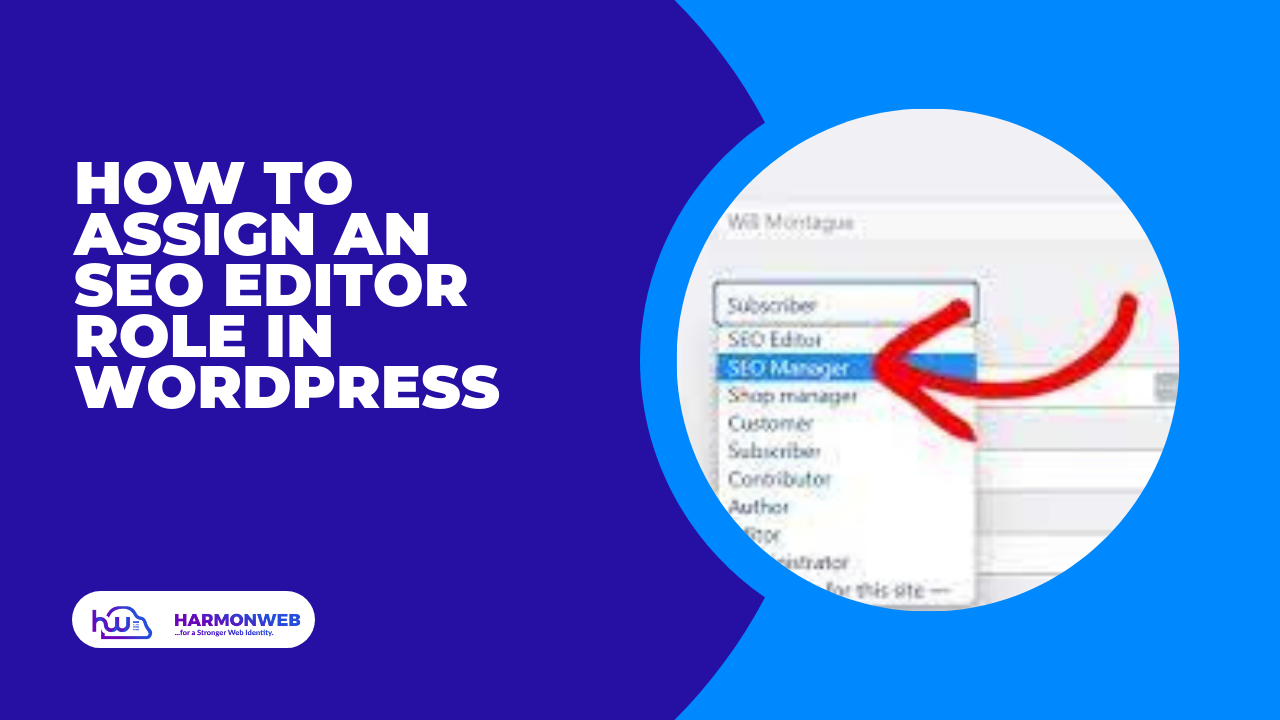 What are the Benefits of Adding an SEO Editor Role in WordPress?
WordPress includes a user role management system that determines the actions a user can perform on your website. Depending on their job description, different user roles can be assigned to team members.
One way to provide secure access to SEO features and tools for specific members of your team is by adding an SEO Editor/Manager role to your WordPress website.
The SEO Editor role allows access to SEO settings for posts and pages, allowing the optimization of posts for SEO and improvement of search rankings. On the other hand, an SEO Manager has access to sitewide SEO settings, including sitemaps, redirects, local SEO, and more.
By default, WordPress does not provide these roles, but they can be added easily with the All in One SEO for WordPress plugin. This powerful SEO plugin enables easy optimization of WordPress websites and includes robust access control features, ensuring limited access to the SEO team.
To add an SEO editor or manager user role in WordPress, follow these steps.
How to Assign an SEO Editor Role in WordPress
To get started with optimizing your WordPress website for search engines, the first step is to install and activate the All in One SEO plugin. If you need guidance on how to install a WordPress plugin, our step-by-step guide can help.
It's important to note that you'll need the Pro version of the All in One SEO plugin to access SEO user role features.
Once you activate the plugin, a setup wizard will launch to guide you through the setup process. If you require assistance, our guide on setting up All in One SEO in WordPress can provide additional support.
To grant a user access to SEO features, you can add a new user by going to the Users » Add New page, or edit an existing user account by visiting the Users » All Users page. Click on the Edit link below the user account that needs to be modified.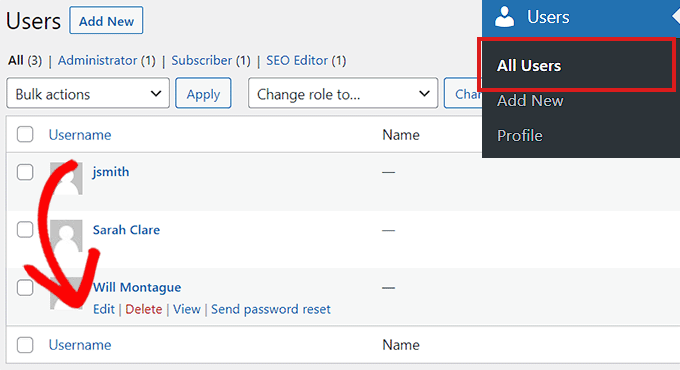 In the Edit user screen, scroll down to the Role option and select either the SEO Editor or SEO Manager user role from the drop-down menu. Ensure that you click on the Add / Update User button to save any changes made.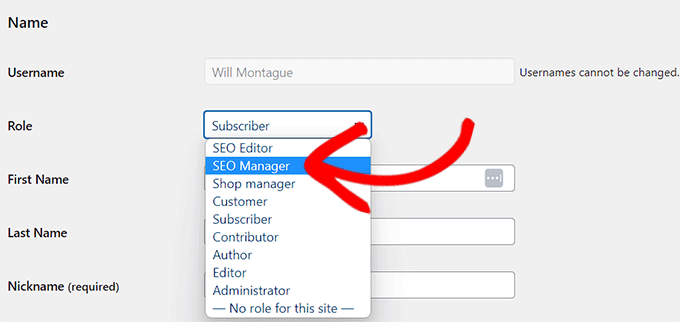 Users with the SEO Editor role will be able to edit the SEO settings for a post or page by simply editing it. Alternatively, users with the SEO Manager role will be able to view the General SEO settings in the WordPress admin sidebar and can make changes to site-wide SEO settings that could impact your entire website.
Step-by-Step Guide to Customizing SEO User Roles in WordPress
All in One SEO automatically selects the optimal access control settings for each SEO user role. However, there may be times when you need to modify permissions for the SEO editor or Manager user roles.
All in One SEO provides the ability to customize SEO user roles, allowing you to choose which options they can access. To do so, navigate to the All in One SEO » General Settings page and switch to the Access Control tab. From there, scroll down to the 'SEO Editor' option and toggle the switch next to the 'Use Default Settings' option.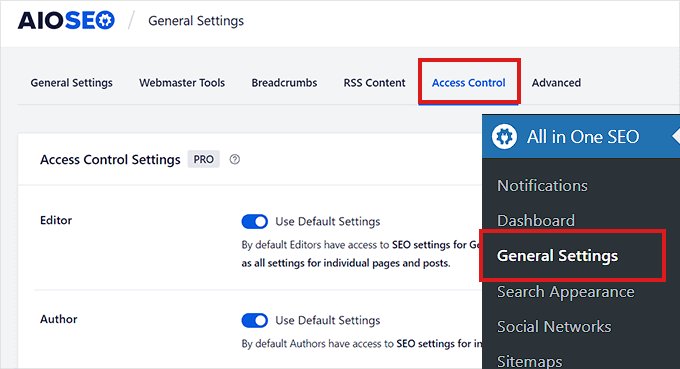 This will reveal the Default Settings that All in One SEO has chosen for the SEO Editor role, which typically only includes access to Post SEO settings. From there, you can select the options you want to allow the SEO editor to access or remove their access to certain features, such as the Manage Redirects option or the Search Statistics feature.
To modify settings for the SEO Manager user role, switch off the 'Use Default Settings' toggle next to the SEO Manager option, which will display the default settings for that role. The SEO manager user role has access to several options under the General SEO settings as well as all the options under the Post SEO settings. You can then choose which options to allow or remove their access to specific items.
After making your desired changes, remember to click on the Save Changes button to store your settings.