Are you interested in making your website accessible to users who speak different languages?
By default, WordPress does not provide a straightforward solution for managing multilingual content. Fortunately, you can use plugins to seamlessly translate your WordPress website.
In this post, we will guide you through the process of translating your WordPress website with ease.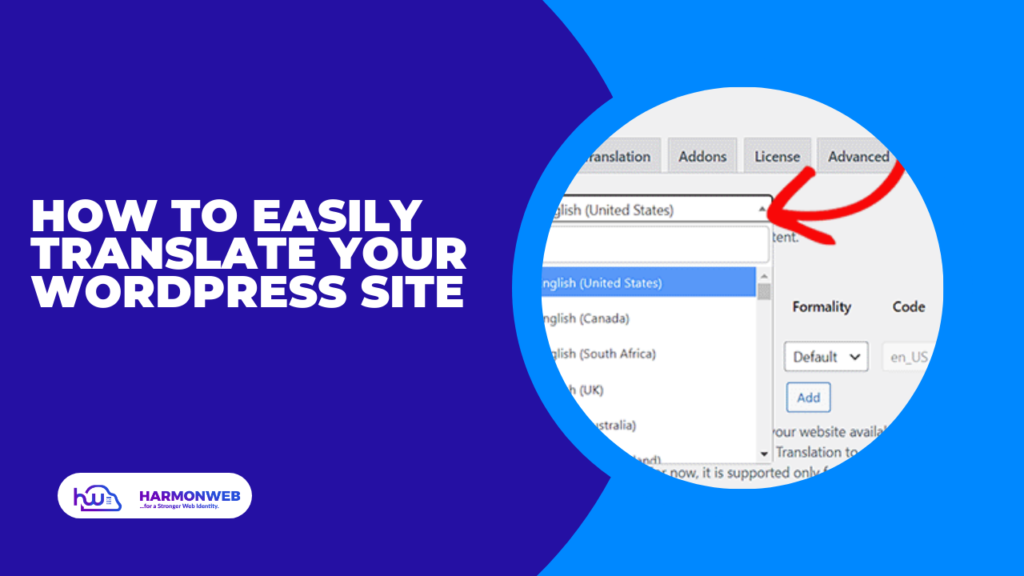 Why Translate Your WordPress Website?
WordPress is a versatile platform that allows users to operate in any language. Notably, most WordPress themes and plugins can also be translated into different languages to suit the diverse needs of the user base.
If your business targets multilingual audiences, it is crucial to have your content translated. Although machine translations such as Google Translate are readily available, they are often inadequate and can lead to erroneous translations.
On the other hand, using a multilingual WordPress plugin requires creating multiple posts, which is not only time-consuming but also tedious. However, using a translate WordPress plugin, you can translate your website and content effortlessly through a live editor. This method eliminates the need for creating multiple posts for the same content and makes it easier to switch between different languages.
Additionally, the translate WordPress plugin enables users to translate themes and plugins. The live editor feature allows for instant language switching, making the process of translating your website seamless.
In summary, WordPress's translate plugin is a valuable tool for users who want to operate in different languages. The following section will explore the easy steps involved in translating your WordPress website.
How to Easily Translate Your WordPress with TranslatePress
To begin translating your WordPress site, you will need to install and activate the TranslatePress plugin.
Once you've activated the plugin, go to the Settings » TranslatePress page in your WordPress dashboard to configure the plugin settings. Navigate to the 'General' tab and select your default language from the dropdown menu next to 'Default Language'.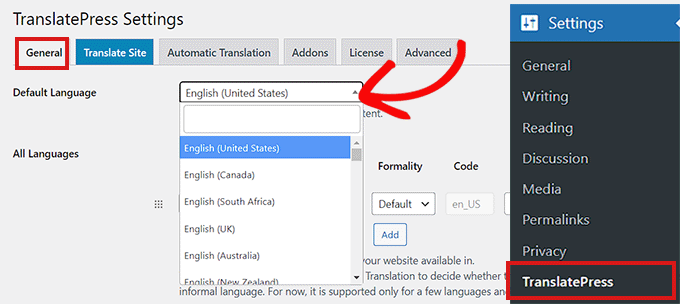 Next, select the language you want to translate your website into from the 'All Languages' section dropdown menu below the 'Language' option. Click 'Add', then select whether you want to display language names in their own language or in English by choosing 'Yes' or 'No' for the 'Native Language Name' setting.

For optimal search engine optimization, it is recommended that you leave the 'Display default language name in URL as a subdirectory' option unchanged. You can also choose to enable the 'Force language in custom links' setting, which will make your URLs more SEO-friendly.

If you want to use Google Translate for automatic translations, you can enable this feature by providing a Google Translate API key.

Under 'Display Language Switcher', TranslatePress provides three options for how you want to display the language switcher on your website: using a shortcode, adding a switcher to your navigation menu, or displaying a floating menu.
Once you've made your selections, click 'Save Changes' to save your settings. To begin translating your website, click on the 'Translate Site' tab on the plugin's settings page or the 'Translate Site' button in your WordPress admin bar.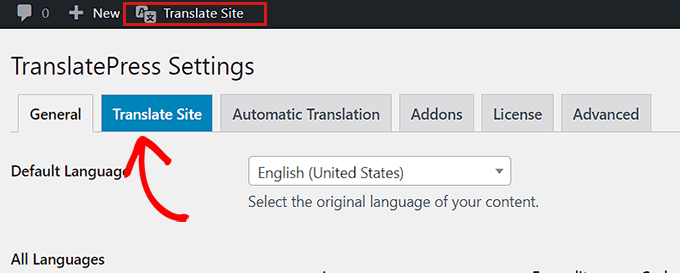 This will open the live translation editor in a new browser tab. Click the blue translate icon next to any text you want to translate on your website. The chosen text will automatically load in the left column of the translation editor.
Add your translation in the box below and click 'Save Translation' to save your changes. This process can be used to translate all the content on any page of your site, including navigation menus, buttons, sidebar, widgets, meta-text, and more.
To instantly translate any page or post on your site, click the 'Translate Page' button in the live editor. Another benefit of this plugin is that you only need to translate a specific string once; the plugin will automatically translate it for you in other places.
Adding Language Switcher to Your Website
To enable visitors to choose their preferred language when they visit your website, you will need to add a language switcher. The language switcher usually displays the flags of different countries to indicate the languages available on your site. TranslatePress offers various ways to add a language switcher, such as using a shortcode, a navigation menu item, or a floating banner. Additionally, you can choose to display the language switcher as flags, language names, or both.

To add a language switcher using a shortcode in WordPress, you can navigate to the TranslatePress page in the Settings menu of your admin dashboard. Once you are on the 'Settings' page, scroll down to the 'General' tab and copy the [language-switcher] shortcode from the 'Language Switcher' section. You can then paste this shortcode on any page, post, or sidebar widget where you want to display the language switcher.
If you prefer to add a language switcher as a navigation menu item, you can go to the 'Menus' page under the 'Appearance' section of your dashboard. Then, click on the 'Language Switcher' tab in the 'Add Menu Items' section and select the languages that you want to display in the language switcher.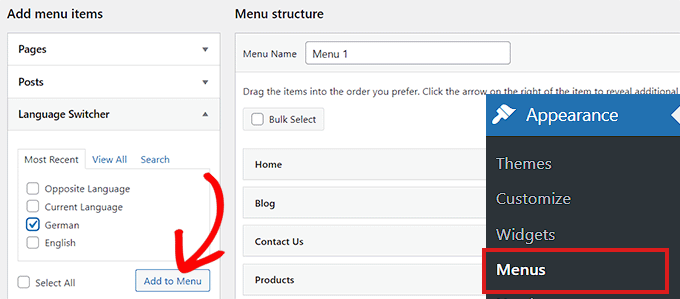 Once you have made your selection, click the 'Add Menu' button to add the language switcher as a menu item. Remember to save your changes by clicking on the 'Save Menu' button.
To add a floating language switcher, go to the 'Language Switcher' section under the 'General' tab on the TranslatePress page in your admin dashboard. Here, select the 'Floating language selection' option and choose the position of the floating language switcher from the dropdown menu. Finally, save your settings by clicking on the 'Save Changes' button. You can now view the floating language switcher at the bottom of every page on your website.
If you liked this article, then please subscribe to our YouTube Channel for more WordPress video tutorials. You can also find us on Facebook.