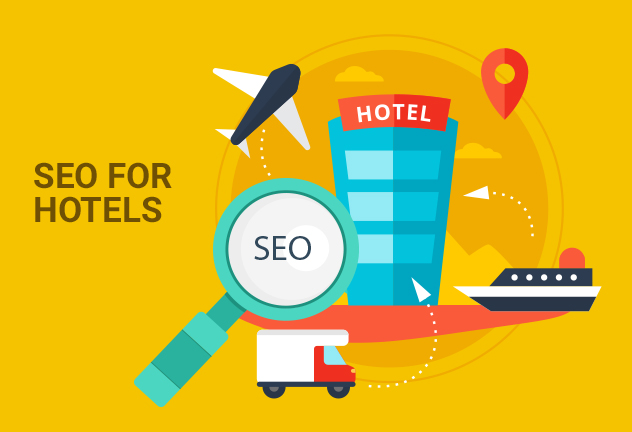 SEO for hotels? Imagine that most of your reservations came to you directly through your hotel's website.
Without having to depend (or at least depending much less) on Booking, TripAdvisor and other OTAs and metasearch engines. How many extra benefits would you gain by not having to pay a commission for each reservation?
Well, that's possible, but you need to work on a good SEO strategy .
How?
That is what we tell you in this post.
Don't worry if right now you don't have many notions, because here we are going to give you a step-by-step guide to optimize your hotel's website for SEO ranking .
Prepare the "No rooms left" sign, which you will need. 
Why you need to develop an SEO strategy for your hotel
If you have been reading about digital marketing for a while, surely you know this definition:
SEO is the strategy we follow so that a website appears in Google results for certain keywords (or search terms).
For example, suppose you run a rural hotel in the province of Alaska. 
This being the case, you will be interested (and very interested) in your page appearing in Google when a person searches for something like "Rural hotel in Alaska".
Why? Notice: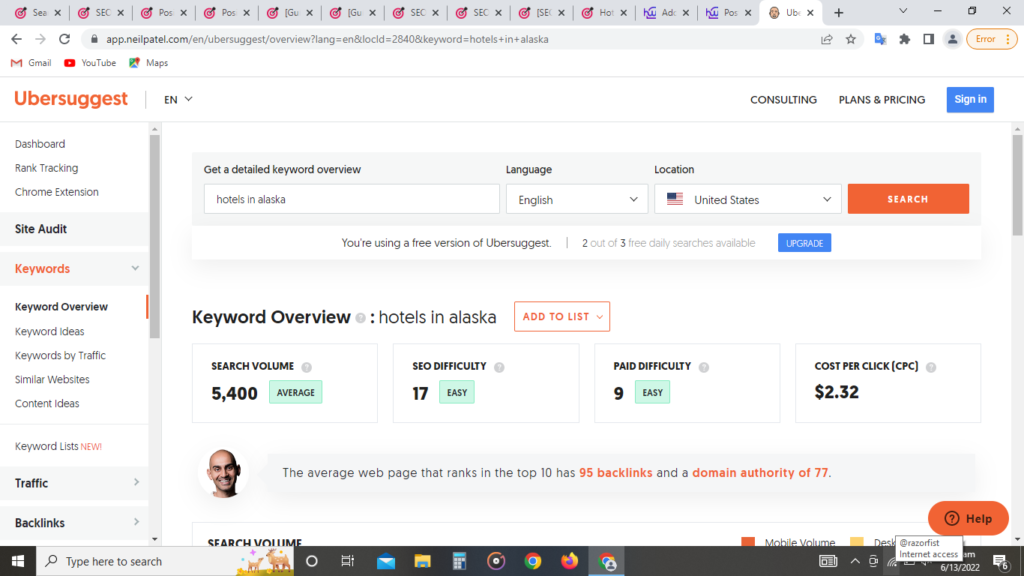 The keyword "Rural hotel in Alaska" has 5,400 monthly searches.
That's 5,400 people looking for a hotel like yours every month, and they could become customers.
Doesn't sound bad at all, right? 
Of course, to attract those potential customers to your website, you first have to get positioned on the first page of Google when someone searches for that precise keyword.
And not only that.
In addition, it has to be at least among the first three search results, which are the ones that take around 70% of the clicks.
You can already imagine that this is not easy at all.
But if you do things right (that is, if you follow the steps that we are going to explain below) it will be much easier for you. 
SEO for hotels guide: how to develop an SEO strategy for your hotel
Now we are going to give you a lot of information that you will almost certainly need to review later, so remember to save the post in your browser or in your content curation tool.
You'll see how good it is to have it at hand later.
1. Find out who your client is…
Eye, this seems easy but deceives.
It is not enough that you know that your ideal client is " A person who wants to visit Alaska", because that is too generic.
Think about it.
Does a 5-star hotel in the center of Girona and a rural house on the Costa Brava target the same segment of the public?
Clearly not. 
To truly understand who you are targeting, you need to know four things:
The profile of your client: in the example of the rural house, they could be young couples, between 25 and 40 years old with an average income.
What needs do they have: they are nature lovers and want to find a hotel that is far from the city because what interests them is hiking and visiting the coast.
What obstacles are there: they are looking for a hotel with a good location and at an affordable price. They know little about the area but they do not want to depend on an agency that manages the trip, they would like to design it to their liking.
Why they should choose your rural house (and not any other accommodation): in addition to having spectacular views of the sunrise on the Costa Brava, you offer your visitors a very complete paper guide with all the routes and places of interest of the coast (including a brief historical review of the emblematic locations).
Being so thorough will allow you to design a more effective strategy and boost conversions.
2. what you search for on Google
The next thing is to know what keywords that audience profile uses when searching for a service like yours.
That is, what we call doing keyword research or keyword research.
This process has three steps.
A. Make a list of terms related to your business
The first thing is to open a Word document and write down all the terms related to your business that you can think of and that your potential clients could use in their searches.
Here we differentiate two types:
Terms related to the area: what would a person who is thinking of visiting the Costa Brava do? Before even considering looking at accommodations, the first thing to do is to research the place and plan some activities. At this point you will search for things like "Costa Brava hiking trails" or "Costa Brava kayaking spots".
Terms that define your business: once you are clear about what you are going to do, you will start looking for accommodation. Then you will use terms like "Costa Brava rural hotel".
Attacking these two types of keywords will allow you to reach people at different stages of the sales funnel.
Or put simply: more views on your website and more customers for your hotel. 
B. Analyze the search volume of each keyword
The next thing is to find out how many monthly searches each of the words that you have entered in your list has, and thus know which ones you are interested in ranking and which ones are not.
For that you can use a tool like the Google Keyword Planner.
C. Divide keywords by types
The last step is to divide that list of keywords into transactional and informational.
Informative:  in this case the user is looking for information about the place or destination, but has not yet thought about the type of accommodation they want. This would be the case of "hiking routes on the Texas". 
Transactional:  those that are looking for a person who is already determined to book an accommodation and is only looking for which one. For example, "Rural hotel on the Oklahoma".
Making this separation will be very useful for the following points on the list.
3. Optimize the main sections of your website
For now we are going to focus only on the transactional keywords (we will use the informative ones later).
As we were saying, these are the keywords that a person searches for when they want to find an accommodation like yours or learn more about your services.
That is why it is logical that you rank these words with the main parts of your website : the main page, the sales pages or landing page, etc.
We will explain it to you with an example.
Suppose you are the owner of several rural accommodations on the Costa Brava, and that you have a hotel in Paris and a rural hotel near Lagos.
In this case you would have to distribute the keywords as follows:
Homepage: your main page will help you rank the keyword with the most searches (which is also the most difficult to rank, because it will have more competition). In this case it could be "Rural hotel in Girona" or "Rural hotel on the Costa Brava".
Sales pages:  we go down one level and go to the sales pages or landing pages. Here the idea is that you have a different page for "Rural hotel in Lagos" and another for "Rural house in Texas", in which you describe each accommodation separately.
If you have more accommodations in different areas, the idea is that each one has its own page within your website.
In addition, the web must be optimized so that it is fast loading, for that here we leave you a guide of the best hostings that exist.
4. Turn your blog into a travel guide
For your clients, a hotel is little more than a place they leave in the morning and return to go to sleep.
What really interests them is what is around them.
That is why they first search Google for terms such as "hiking routes in the Neveda.
Now imagine that a person does that search and a post that you have published on your blog appears among the first results. One in which you talk about the most beautiful routes on the entire coast.
Enter your website and read the entire post. Then click on a link that was in the text and another begins to read.
And then another, and another, and another.
In the end, that person is very clear that they want to visit the Nevada, so they only have the final step left, which is to find accommodation.
And which do you think will look first?
Well, yours, of course. 
That is why positioning yourself for this type of keywords is so important to reach a greater number of potential customers, as we explained above.
It may interest you:
5. Create a profile on Google My Business
Look at what appears to us when searching for "Hotel in Texas".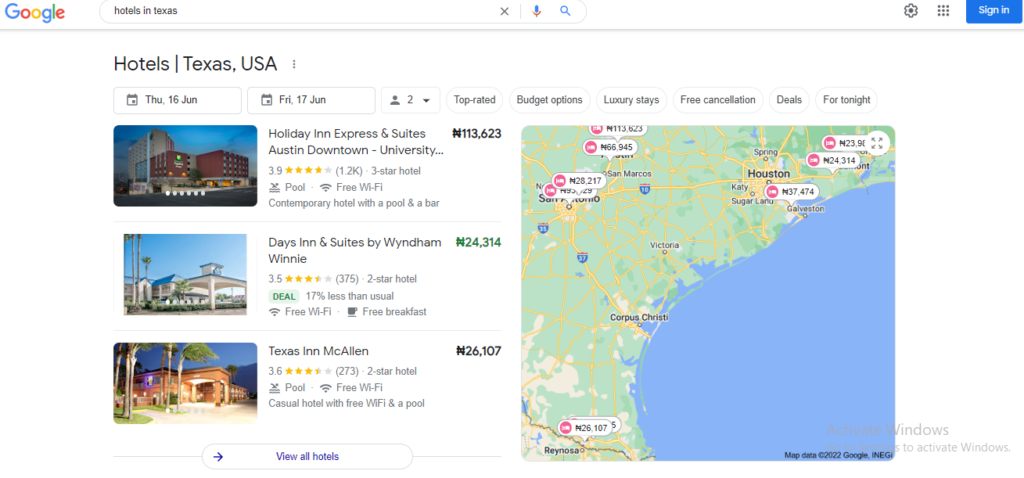 Above the normal search results, Google shows us a series of files that include information on several hotels in the area (name, contact information, address on Google Maps).
Those are Google My Business listings, Google 's free service for local businesses.
Creating this tab gives you a lot of visibility and is a good way to attract potential customers to your website. In addition, signing up is totally free.
But do not forget that the Google My Business tab and its ranking on Google Maps depend on how the SEO of your website is working.
Do you need help optimizing your hotel website for SEO?
What you have seen here is just a brushstroke of everything that optimizes the SEO of a website.
Thoroughly understanding the Google algorithm ( and the more than 200 factors it analyzes ) is complex and can take a long time to master.
But if what you want is to start getting clients with Google as soon as possible, we can give you a hand.
In our agency we have been working on SEO for all kinds of businesses for years, so we know quite well how to get your website to become friends with the big G.
If you are interested, just click here and contact us.
Filling your guest rooms is our business.