We start with a fact that is worth its weight in gold:
And the gold we mean literally.
Because that number, 12,100, is the number of times "Texas apartment" was searched on Google during a single month.
And if your company offers tourist accommodation in that area, that is more than 12,000 potential clients that you could attract each month.
But of course, if we look at the search results we find this: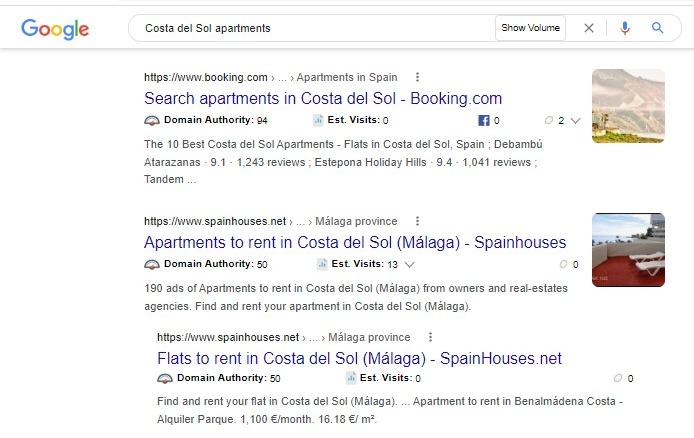 There are only OTAs, OTAs, and nothing but OTAs.
OTAs (Online travel agencies)
The same ones that reduce your profits by booking commissions.
Is it possible to stand out from the OTAs and attract more customers through your direct channel (that is, your website)?
The good news is that yes…
The not-so-good is that you have to put your batteries in and work hard: your salvation is in SEO or web ranking.
But don't worry, because we are not going to leave you alone in this battle.
In this post, we give you the SEO tips so that your tourist website is ranked on Google and gets more reservations with it. And everything is explained in a simple way so that you can apply it even if right now you don't even know what a keyword is.
Roll up your sleeves and stick your elbow on the table, because today we are going to tell you how to arm-wrestle OTAs… and win it. 
5 tourism SEO Tips to Rank on Google
Before starting with the guide, an important clarification.
Developing an SEO strategy involves much more than sticking keywords here and there on your website.
What interests you is not (only) that your page appears on Google, but to attract visits and convert them into customers.
Let's see how to get it.
1. Know the needs of your customers well
The safest thing is that your business focuses on a certain customer profile, for example:
An adventure sports company will target youth groups.
A private tour agency may target couples with high incomes and an interest in history.
Most customers of a restaurant with a children's area will be married couples with small children.
A rural house in a high mountain area will be aimed at people who love nature.
Each one of these profiles has totally different needs, economic capacities, and expectations for their trip.
And this is very important because it will completely condition your SEO strategy.
Without going any further, having a clear profile of your customers is essential to choosing the terms for which you are interested in appearing on Google.
2. Find out which keywords you are most interested in targeting
HOW TO RANK FOR COMPETITIVE KEYWORDS IN CONTENT MARKETING">The keywords or search terms are those terms that the public searches on Google. For example, "Costa del Sol apartment" would be a keyword.
And beware, this is important:
Choosing the right keywords is essential to attract qualified traffic (visitors who are interested in your services and, therefore, can end up becoming customers).
So let's see how to find the ones that interest you the most.
A. Terms related to your business
Suppose you have a restaurant with a children's area in Oviedo.
The first thing you should do is brainstorm terms that your customers might be searching for on Google.
In this list, you could include terms related to:
The service you offer: family restaurant Oviedo, restaurant with parking Oviedo, restaurant to go with children in Oviedo.
Points of interest in your area: Oviedo playgrounds, children's museums in Oviedo, storytelling in Oviedo, typical dishes of Asturias.
The needs of your clients: what to do in Oviedo with children, plans with children in Oviedo, what to do in Oviedo if it rains.
B. Analyze your search volume
Now it's time to check if the terms you have noted in your list have monthly searches. That is if your audience actually searches for them on Google. 
Of course, now you are wondering:
" How many searches should a keyword require at least for me to be interested in targeting it? ".
Well… it may seem illogical to you, but sometimes less is better. 
If your website has only been around for a short time or still receives little monthly traffic, it is preferable that you start with smaller keywords.
We are talking about terms that have even less than 100 monthly searches.
The reason is that the keywords with the most searches will also have much more competition.
We return to the example that we gave you at the beginning of the post:
While "costa del sol apartment" has 1,300 monthly searches, a more specific keyword such as "accommodation in Mijas costa" has 80 searches. 
Which one do you think will make it easier for you to appear on the first page of Google (and start attracting customers as soon as possible)? 
3. Decide which pages you are going to target each keyword with
Now that you know which keywords you are interested in targeting, we are going to divide them according to the user's search intention (the exact information that a user expects to find when searching for that specific keyword in Google).
We have two types:
Informative keywords: these are the terms with which a user wants to learn about a certain topic, but is not yet thinking of buying anything. For example, "What to visit in Salamanca".
Transactional keywords: these are the terms someone searches for when they want to buy a product or service (such as "Madrid tourist bus tickets").
A very simple trick to distinguish them:
Activate the Incognito Mode of the browser and search Google for each keyword on your list.
If you see mostly blog posts, it is an informative keyword. On the other hand, if the results are sales pages, it is a transactional keyword.
Easy, right? 
A. Transactional keywords: Landing pages on your website
Transactional keywords are placed within the main sections of your website.
We give you an example so you can see it more clearly.
Imagine that you have an adventure sports company in the Pyrenees, including canyoning, paragliding, and rafting.
So you would have to do the following:
Home page: here you have to rank the keyword with the most searches (which will also be the most competitive). In this case, it could be "Pyrenees adventure sports".
Landing pages: each of the keywords defined by one of your services is targeted with a separate landing page. A page for "canyoning in the Pyrenees", another for "paragliding in the Pyrenees", etc.
The objective is that all the transactional keywords lead to pages where that service can be contracted (which is what the user intends).
B. Informative keywords: blog posts
We told you before that, when a user searches for an informative keyword on Google, he wants to know more about a specific topic (he is not thinking of hiring your services yet).
That is why we target these keywords with blog posts.
In the keyword study itself, you should have already found several topics for your blog, but just in case you need more threads to pull, here are some ideas:
Thematic compilations (10 most beautiful towns in Cádiz, 5 best museums in Madrid, 7 hiking trails in Cazorla for beginners).
Tourists are guided by areas, towns, and neighborhoods.
Practical tips for getting around the city.
Cultural agenda and festivities.
Typical dishes.
Recreational activities.
These are some ideas but you have many possibilities. Think about what content may be of interest to those who use your services and hit the keyboard! 
4. Take care of the user experience
Be careful, remember what we told you at the beginning of the guide: doing SEO does not only consist of targeting keywords. 
If the users you attract do not feel comfortable browsing your page (if the user experience is not good) they will go where they came from.
And this is a very serious problem for ranking.
So that it does not happen to you, pay close attention to these aspects of your website:
Site Structure: the structure of your site should help the user to navigate intuitively.
Responsive design: it is already mandatory for any website to be adapted for mobile phones, but even more so in the tourism sector. Think about it, how many people have a computer handy while traveling? There will be customers who enter your website from their mobile to look for the address of your business, reread a post they saw on your blog, make a reservation, etc.
Loading speed: did you know that when your website takes more than 3 seconds to load, your visitors start to leave? That is why it is a factor that you must take into account. Various factors come into play here (including the next item on the list).
Optimized images: Images are a great asset for tourism businesses. But be careful, because if you don't optimize them, they can greatly slow down the loading speed.
If you neglect this aspect of your page, it is not that it will cost you more to rank; is that Google will not even pay attention to your website.
5. Open a profile on Google My Business
If we type "Barcelona travel agency" into Google, the first thing we see is this map with a series of tabs: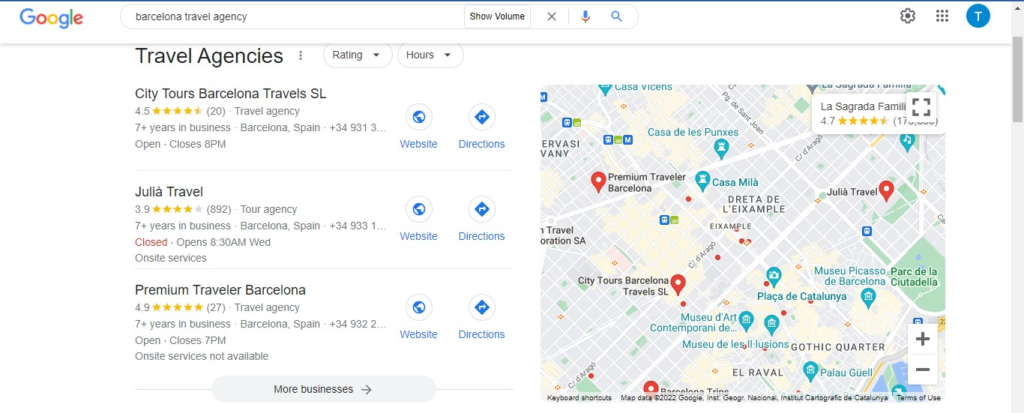 This map appears above the normal search results and shows us the information and location of various travel agencies.
As you can imagine, these agencies have great visibility and attract many visits.
How can you appear on that map?
Well, by filling in your business file on Google My Business, Google's free service for local businesses.
Google My Business listings are a basic element for any company that wants to do local SEO (the strategy that allows you to appear for searches in a certain geographical location, vital for a tourist company).
Ready to put your tourist website on the front line of Google?
You have already seen all the potential that a good SEO strategy has.
But beware, what we have explained here is only a very compressed summary.
Ranking your website and getting it to reach the top positions is a process that takes time and, above all, a lot of work.
Now, if what you want is to attract more customers through your website without any complications, you have another option:
>> Contact us by clicking here and leave the SEO strategy of your tourist website in our hands.
In the more for years that we have been with the agency, we have worked with many businesses in this sector, so we know well what it means to work on the SEO of a tourism company.