WordPress PDF viewer plugins
Regardless of whether you run a large company website, a blog or an educational website for a school or university, with a WordPress PDF viewer plugin, you offer your users an excellent option to view PDF documents directly on your WordPress website read, download, or, depending on the plugin, print out.
To make choosing a suitable WordPress PDF viewer plugin as easy as possible for you, we have put together both free and paid plugins in our best list below.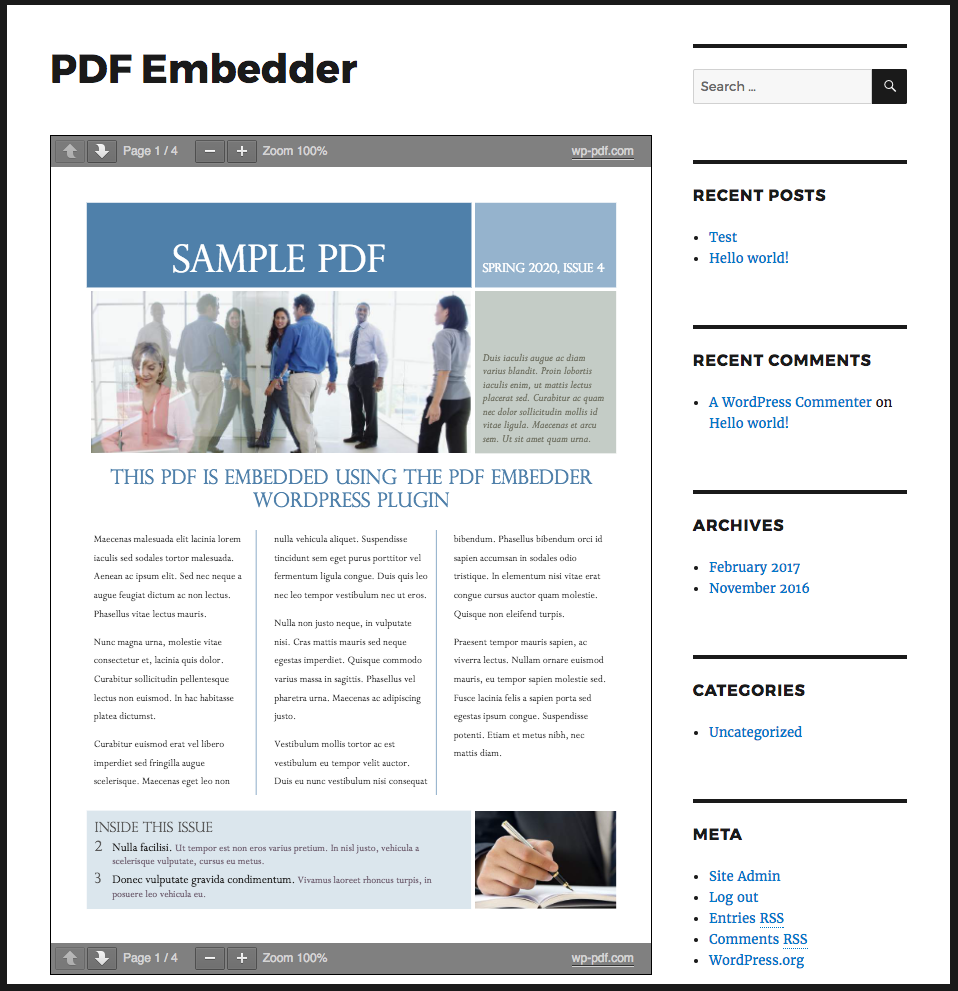 Over 200,000 active installations and countless positive reviews speak for themselves.
In addition to the free version, which already offers a variety of options, there is also a paid version available to you with the popular PDF Embedder plugin.
The open-source WordPress PDF viewer plugin allows you to easily embed PDF files into pages and posts on your website using Javascript.
By exclusively using JavaScript, you do not need iframes or other third-party services and benefit from a smoother and faster display of your files.
For convenience, the files can be uploaded the same way as standard images, and the height and width of your files will be automatically adjusted to the different screen sizes of your visitors.
If necessary, you can also manually enter the dimensions for individual pages and make unique adjustments using shortcodes. Furthermore, the PDF files of the WordPress PDF viewer plugin have a practical toolbar that provides easy-to-use buttons for forward and back navigation and a zoom function for your users.
If you are not satisfied with the accessible version of PDF Embedder, you can upgrade to the Pro version of PDF Embedder Premium via the wp-pdf.com website.
Pricing for a single site licence is $20.00.
To use the WordPress PDF viewer plugin on 2–5 websites, the fee is $30.00.
The license for unlimited website use is $50.00.
All prices include 12 months of customer support and regular updates.
Apart from that, the makers of the PDF Embedder Premium plugin give you a 14-day money-back guarantee if you are not 100% satisfied with the plugin.
In addition to the fair price, the WordPress PDF viewer plugin in the Pro version scores with some very useful features.
For example, your users can download the entire PDF file using an extra integrated button, and embedded hyperlinks can be clicked and are completely functional.
In addition, PDF Embedder Premium offers you additional functions such as a full-screen mode, continuous scrolling between the individual pages, and a PDF security option that is intended to prevent the original PDF from being downloaded.
Overall, the WordPress PDF viewer plugin PDF Embedder is a helpful and recommendable plugin in both the open-source and free versions.
2. Google Drive Embedder by Lever Technology LLC
Another top WordPress PDF viewer plugin from Lever Technology LLC is definitely Google Drive Embedder.
As with PDF Embedder, you also have a free version with Google Drive Embedder.
With the free extension, you can embed many different types of documents.
In addition to Word documents, videos, images, PDFs, and ZIP files, native Google documents such as spreadsheets, drawings, and forms such as MS Office files.
Other notable benefits of Google Drive Embedder include compatibility with WordPress multisite and easy access to all your Google Drive files through a popup window.
This allows you to select the documents you need quickly and then embed them in a post or page.
A premium and an enterprise option are available for further additional functions.
The premium version of Google Drive Embedder impresses with unique features such as embedding entire folders and a particular search function for drive files.
The premium offer is rounded off by the option of selecting data from your Google calendar in order to provide download links to XML or ICAL or integrate them directly into your website. Pricing starts at $19.00 for one WordPress website, $29.00 for two to three websites, and $39.00 for the Unlimited Website Licence.
Google Drive Enterprise is actually only suitable for larger companies, which is also reflected in its significantly high price.
3. PDF Viewer for WordPress by ThemeNcode
The PDF Viewer for WordPress plugin is one of the best-selling premium plugins on Codecanyon, with over 4,400 sales.
For a small fee of $20, you will receive all subsequent updates and 6 months of customer support from ThemeNcode, which you can extend for an additional 12 months if necessary.
The WordPress PDF viewer plugin is a powerful plugin with numerous features.
In addition to the easy embedding and display of your PDF files, the WordPress PDF viewer plugin particularly scores with a built-in tracking function.
This establishes a connection to Google Analytics and allows you to track your users' behaviour.
The PDF viewer plugin lets you personalise the display with your logo and design the toolbar according to your wishes.
There are various toolbar elements available, such as Download, Share, Zoom, Open, Print, etc., to choose from, which can be turned on or off as required.
Furthermore, all embedded PDF documents are entirely responsive, so visitors can read and download them on all standard screens.
A well-developed language translation and compatibility with WooCommerce websites round off the extensive offering.
4. Flowpaper by Devaldi Ltd
The basic version of the WordPress PDF viewer plugin Flowpaper comes with some useful functions for free.
With Flowpaper, you can edit your PDF content, such as Professionally embedded PDF catalogues, brochures, or catalogues in HTML 5 format into your WordPress website.
Furthermore, the WordPress PDF viewer plugin supports most common browsers and devices and quickly adapts to different screens or platforms.
One of the disadvantages of the PDF viewer plugin is that uploading more extensive data is only possible to a limited extent.
Currently, the publishing limit per document is 15 MB.
If you need more MB, Flowpaper offers you a cloud service in the paid premium version.
Since PDF embedding is only possible with shortcodes and there is no easy button to upload your PDF files, Flowpaper is generally more suitable for advanced developers than beginners.
5. Real3D Flip-Book WordPress Plugin from creative interactive media
If you attach great importance to the design of your PDF files, then the Real3D Flip-Book WordPress plugin is precisely the right thing for you.
The WordPress PDF Viewer plugin is a professional and powerful PDF and image viewer for your WordPress website.
Your PDF documents or images will be displayed on your WordPress website as ultra-realistic 3D flip books with the WordPress PDF viewer plugin, guaranteed to give your users a natural wow effect.
And the best part is that it doesn't require Flash, just HTML5.
The premium plugin also scores points with a customizable user interface, individually designed flip books, various individual views, a PDF text search, and deep linking.
An utterly responsive design optimised for all mobile devices rounds off the diverse range of functions.
For simple PDF documents, the WordPress PDF Viewer plugin, priced at $39, is undoubtedly overkill.
However, if you plan to create a high-quality online magazine or glossy brochures for your customers, the investment is worth it.
6. Embed PDF Viewer by Andy Questions
If you are looking for a simple WordPress PDF viewer plugin, then Embed PDF Viewer is worth looking at.
The WordPress PDF viewer plugin guarantees effortlessly embedding your PDF file from a media library via Google Doc Viewer as a so-called fallback, directly via oEmbed, or as a block in an object tag.
The URL must be a link that can be reached worldwide.
In contrast to many other plugins presented here, this WordPress PDF viewer plugin is only available as an open-source extension.
Despite everything, with Embed PDF Viewer, you get a plugin that is reduced to the essentials and provides good service, and, if necessary, you can even send requests for assistance directly to the developer.
7. Wonder PDF Embed by Magic Hills Pty Ltd
Wonder PDF Embed is a responsive WordPress PDF viewer plugin that uses Mozilla's PDF.js.
With the open-source extension, you can easily embed or display your PDF files on your WordPress pages or posts.
For a better understanding, a free online demo and various mini-tutorials are available on the company website, wonderplugin.com.
Wonderplugin also offers you the option to spice up the display of your PDF files with the paid plugin Wonder-Lightbox, which allows your PDF files to be opened in a particular lightbox popup.
Depending on the support and update selection you want, you can get the plugin for $99 per year.
8. WooCommerce Product Files Tab v2.0 by SprintTheme
The popular WordPress PDF viewer plugin, WooCommerce Product Files Tab v2.0, has some valuable functions for shop operators.
For a purchase price of $10, you can get the extension via codecanyon.net.
To set up the plugin successfully, you will have 6 months of support, which you can extend if necessary for a small additional charge.
The main feature of WooCommerce Product Files Tab v2.0 is to provide a PDF download button for your individual eCommerce product pages.
This means your users can download product information that is too extensive for your product pages as a PDF document or simply display it in the browser.
Since the PDF uploads are carried out entirely via WordPress and, therefore, no shortcodes are required, the WordPress PDF viewer plugin is perfect for beginners.
9. PDF and Print by BestWebSoft
The WordPress PDF viewer plugin PDF and Print shines with several helpful features and is very easy to use.
With this plugin, you can create PDF files and print pages in a flash.
In addition, the extension allows you to use symbols or buttons without any programming knowledge to add a PDF print button to pages, posts, or custom post types.
You can also customise the position of the buttons and only show certain buttons depending on your preference.
The basic version of the WordPress PDF viewer plugin is free, but the plugin is also available as a premium version that offers additional options.
The Pro version costs around $30.00 when paid annually and is valid for one domain.
It includes all premium options, such as adding text or image watermarks, copy protection for your PDF files or custom templates for your headers and footers.
10. PDF.js Viewer Shortcode by Ben Lawson
The open-source extension PDF.js Viewer Shortcode impresses primarily with its problem-free use and the many free features.
These enable you to present and display your PDF files professionally.
The WordPress PDF viewer plugin features customizable buttons, built-in page navigation, advanced search features, and sophisticated language support for all languages.
An elegant grey theme frame, a helpful document structure and an advanced zoom setting are just a few of the other advantages of the PDF.js Viewer Shortcode plugin.
In addition to all the advantages mentioned, you also benefit from a unique loading bar that shows partially loaded PDF documents.
This delayed loading function means that even very large PDFs can be loaded without your website slowing down significantly.
The WordPress PDF viewer plugin also has PDF password protection and an editor media button that generates the shortcode you need.
11. WordPress PDF Light Viewer Plugin by Teamlead Power
WordPress PDF Light Viewer is the ultimate solution for embedding substantial PDF files.
The WordPress PDF viewer plugin supports an unlimited number of PDF files and file sizes without presenting any performance issues.
Miniature navigation that is added automatically and a navigation function that makes it possible to switch smoothly between the individual pages of the PDF document and compatibility with WordPress multisite are further notable advantages of the WordPress PDF viewer plugin.
Also, the extension includes a built-in Turn.js flip book, dashboard flip book preview, zoom option, and full-screen mode.
And even though this WordPress PDF viewer plugin is a free version, the plugin even features delayed image loading to prevent your website speed from being throttled.
Overall, the responsive WordPress PDF Light Viewer plugin suits beginners and advanced users.
12. WordPress PDF Viewer and Embed Plugin by codextent
As the final addition to our 12 best WordPress PDF viewer plugins, we present the WordPress PDF Viewer and Embed Plugin.
You can purchase the viewer plugin for a fair price of $20 from the website codecanyon.net.
The range of functions of the WordPress PDF Viewer and Embed Plugin is quite impressive.
In addition to 2 PDF upload modes, which enable direct uploading from your local PC and importing via PDF URL, you also benefit from 2 display modes, namely embed mode and full-screen mode.
The PDF embedding is completely responsive thanks to the customizable entry of the width in per cent and in pixels.
You only have to specify the height in pixels.
Of course, the WordPress PDF viewer plugin works with all common browsers, such as Google Chrome or Mozilla Firefox compatible.
The plugin also offers the option to integrate a print or download button, both of which can be activated or deactivated using a short code.
For a better user experience, your users can share the PDF files on social media channels such as Twitter, Facebook or Pinterest.
Last but not least, the WordPress PDF viewer plugin scores points with an included short code generation button and a toolbar that can be shown and hidden.