In today's digital age, having a strong online presence is critical to the success of any business. With so many web hosting services available, choosing the right one can be a daunting task. Learn how working with HarmonWeb has benefited Wisdom Chidozie's Business.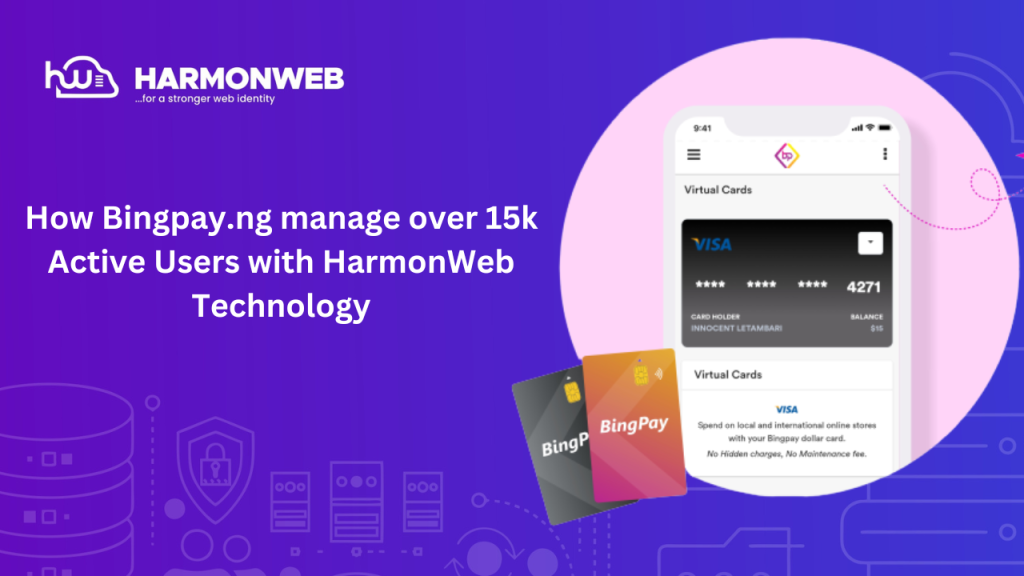 Background
Wisdom Chidozie is the Founder and CEO of Bingpay.ng, a Nigerian fintech company, was established in Port-Harcourt on April 26th, 2021. The company has experienced rapid growth and is now one of the fastest-growing fintech companies in West Africa. Its parent company, Trilbertech Limited, created Bingpay.ng to provide seamless prepaid services worldwide. These services include gift cards, digital assets trading, mobile top-up, and bill payments.
The company is led by a highly skilled CEO and co-founder, and has grown from two to over ten employees, and processed over $60k in monthly transactions. One of the company's notable achievements is launching Africa's first and only gift card payment gateway, a significant step in the continent's financial technology sector.
Bingpay.ng is committed to providing its customers with efficient and reliable prepaid services. With its impressive growth rate and unique services, the company is poised to make a significant impact in the fintech industry, not just in Nigeria but across the African continent.
Challenges & Solutions
Wisdom first heard about HarmonWeb from its founder, Benjamin. He have been using the service for the past two years. Since then, Bingpay.ng have experienced no downtime, making their uptime rate a solid 99%. Harmonweb's speed and performance have also been exceptional, with a 99% rating.
He also had issues with backup and migration once.
" I did need assistance on backup and migration once. The support agent was quick to help me with the case, and I rate Harmonweb's customer support at 99%."
Wisdom also stated "As the CEO of Bingpay.ng, I have been using Harmonweb since its inception, and I can confidently say that it has been an awesome experience.
One aspect that makes Harmonweb stand out from other hosting services is its affordability. The pricing is fair and affordable, making it an excellent option for businesses of all sizes.
I have referred countless fellow web developers to use Harmonweb because of the exceptional service and reliability. I can confidently say that Harmonweb is a hosting service that is worth recommending to anyone looking for a reliable and affordable web hosting provider.
One suggestion I have for Harmonweb is to add more payment options such as transfer and USSD to make payment easier for its users.
We plan to continue using Harmonweb because of the reliability of its service. It has helped us manage over 15,000 Active users without a single downtime, which is an outstanding achievement.
Read Also: How To Purchase Hosting On HarmonWeb
Harmonweb is a web hosting service that businesses can rely on for its excellent uptime, speed, performance, customer support, and affordability. I recommend Harmonweb to any business or individual looking for a reliable and affordable web hosting provider."
We look forward to supporting Wisdom Chidozie's journey to reach even more milestone in the future.