Do you want to learn how to purchase hosting on HarmonWeb?
There are different hosting packages on HarmonWeb you can purchase for your business website. These hosting packages depends on your project size, the cms or website builders you are using and also the type of website you want to host.
In this article, we will show you how to purchase hosting on Harmonweb.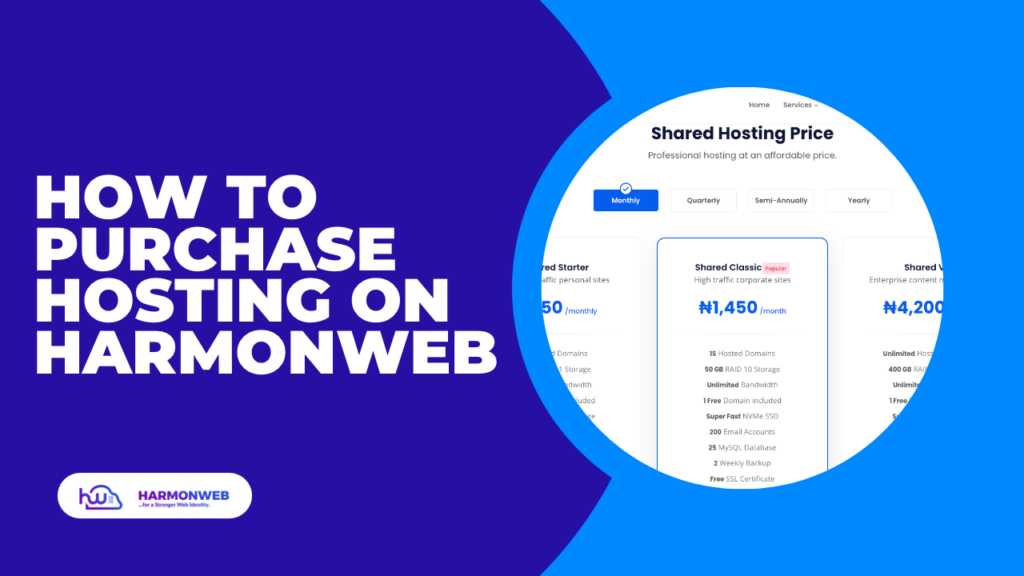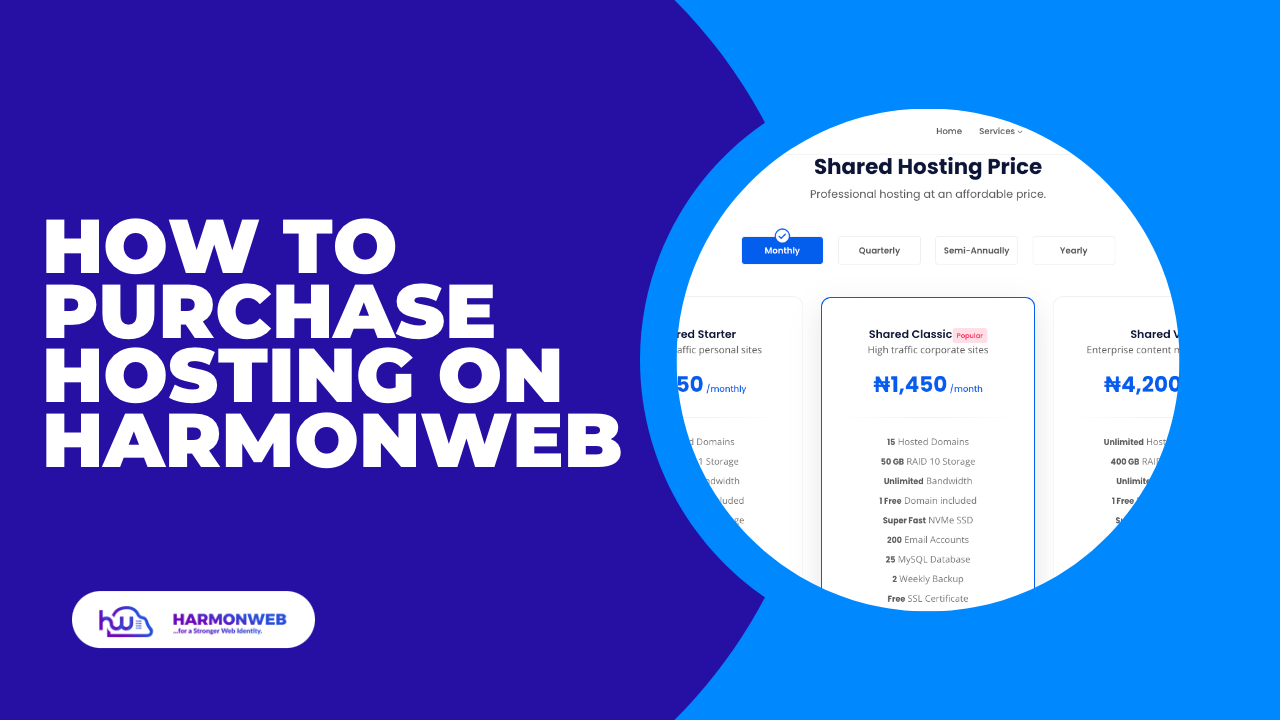 Types of Hosting on HarmonWeb
HarmonWeb has the best hosting packages which you can choose from and it will eventually suite any kind of website you want to host. These are the different hosting packages on HarmonWeb.
Shared Hosting: Share hosting is a type of web hosting service in which multiple website are sharing a single server. Each website is given a certain amount of server resources such as disk space, bandwidth and CPU Usage.
Email Hosting: Email hosting is a web service that allows businesses to host their email accounts on a dedicated server or on Cloud server, instead of relying on free email service providers such as Gmail, Yahoo Mail or Hot Mail.
VPS Hosting: VPS hosting known as Virtual Private Server hosting is a type of web hosting service that allows users to have their own virtual server within a shared physical server. This actually means multiple servers can exist on a single physical server.
Step by Step Guide on How To Purchase Hosting On HarmonWeb
Step 1. Visit Harmonweb
To get started, first you have to visit our official website (https://harmonweb.com) and you will see a page like this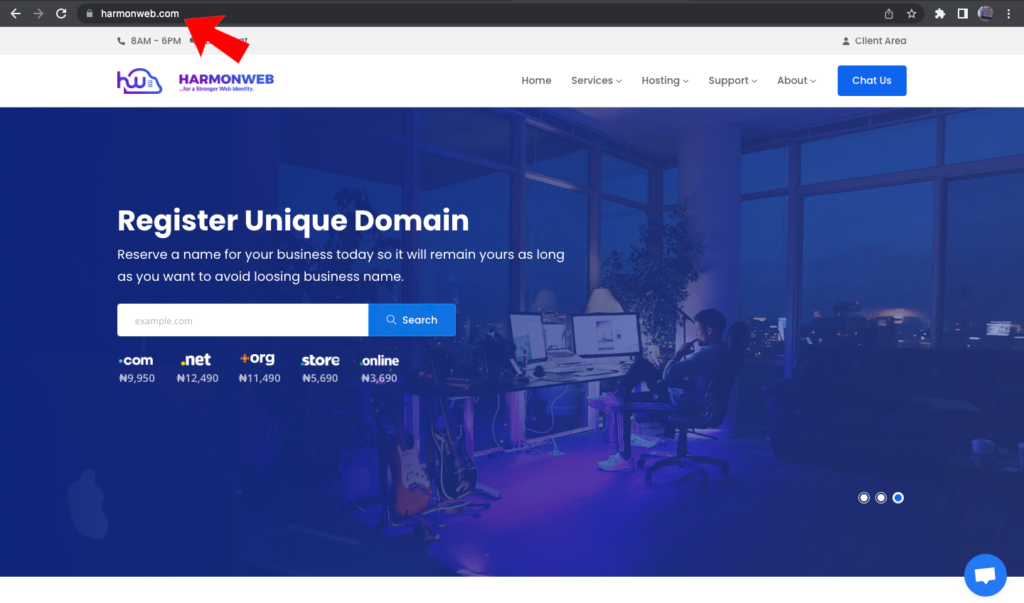 Then from the navigation menu, hover on hosting. There you will see different hosting plans. It's important to read the hosting plan description and check if it meets up to your demand. In this article we will select shared hosting.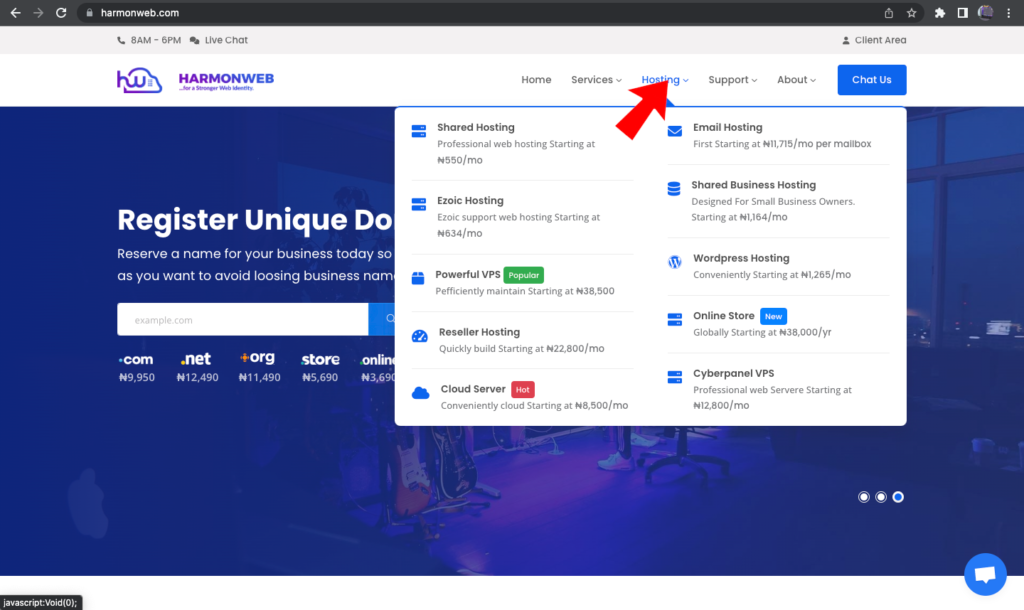 Step 2. Choose a Hosting Plan
Each Hosting plan on HarmonWeb are categorised into different prices which you can choose the one you can afford and upgrade later. Each plans disk space, bandwidth and CPU differs. And also some of the plans comes with free domain when you purchase a yearly plan.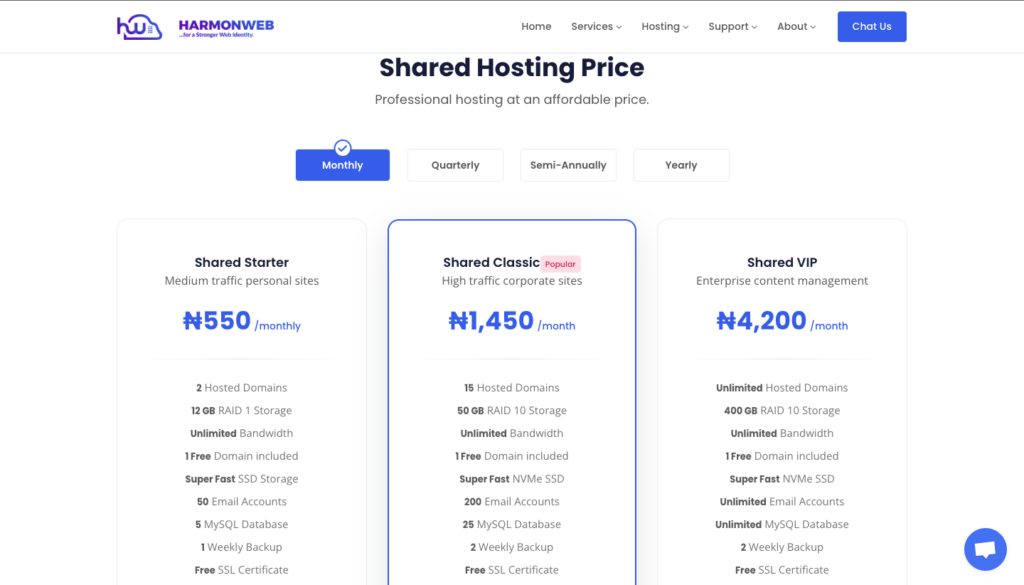 You can also select the option to pay for a month, quarterly, semi-annually and Yearly. You can always upgrade regardless of the duration you paid for.
Step 3. Choose a Domain for your Hosting
You can possibly purchase only a domain and purchase a hosting later for the domain. But anytime you want to purchase a hosting, a domain "must" be linked to it. In this step, you have the option to register a new domain, transfer a domain or use an existing domain.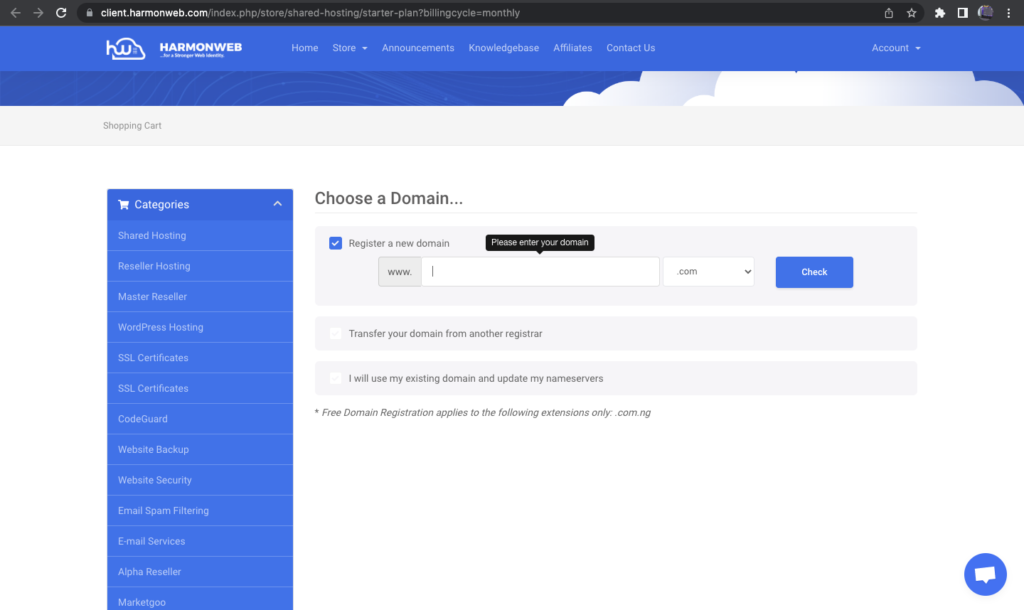 In this process we will be using an existing domain. If you select an existing domain then you need to copy the nameservers that will be sent to your email when you purchase a hosting and add it to your domain nameservers settings.
Read Also: How to Register a Domain on HarmonWeb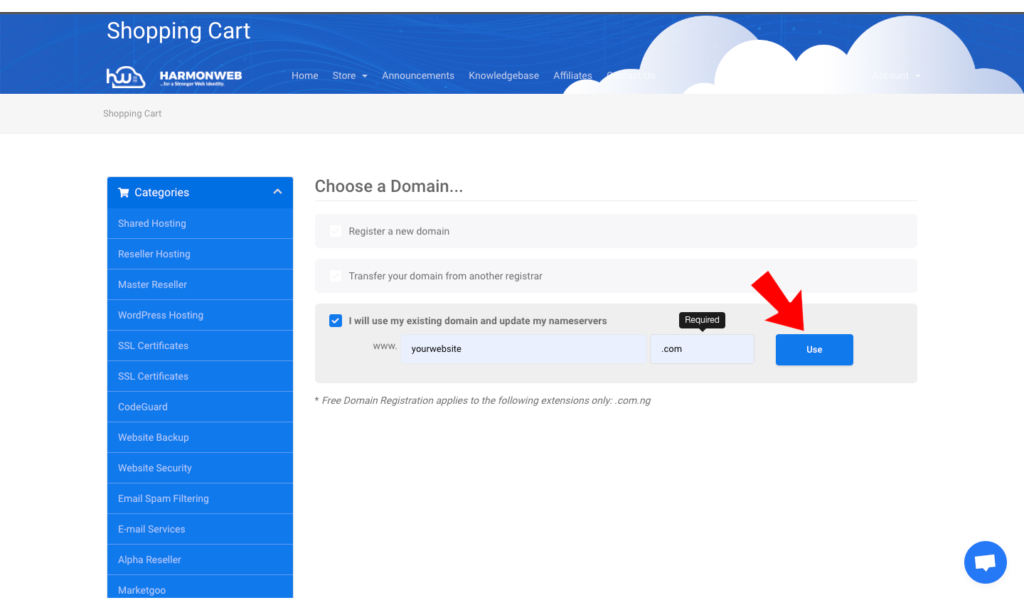 When you do that, click on use to move to the next step.
Step 4: Choose Your Billing Cycle
You can choose from the option if you want to pay for 1 month, 3 months, 6 months, 12 months or more than.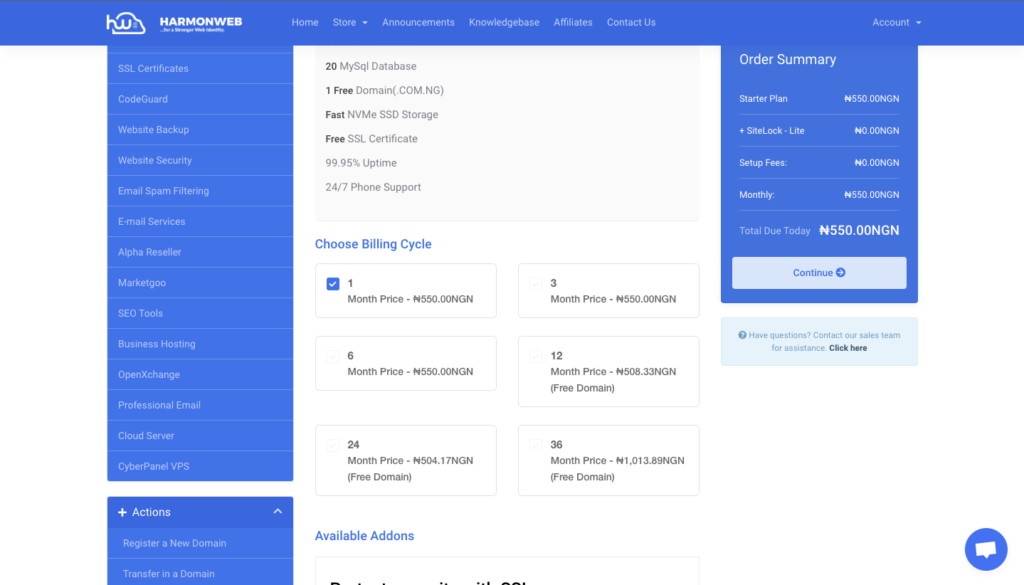 Note: Each one you decide to pay for, anytime you want to upgrade the hosting package maybe because you used up your disk space or CPU. The amount you paid will be subtracted only if you upgrade before the due date.
After choose your billing cycle, click continue to move to the next page.
Step 5: Review & Checkout
In this step, you need to review if you selected the right domain and hosting. Also you can insert a promo code and get a discount from your order.
if you decide to remove any product, you can just click on the x beside it so once you are done just click on the CHECKOUT button (on the right-hand side) but if you still want to buy more product (Hosting, domain, SSL, Reseller Hosting, etc.) you just have to click on the CONTINUE SHOPPING under the CHECKOUT button then you can now order for more products.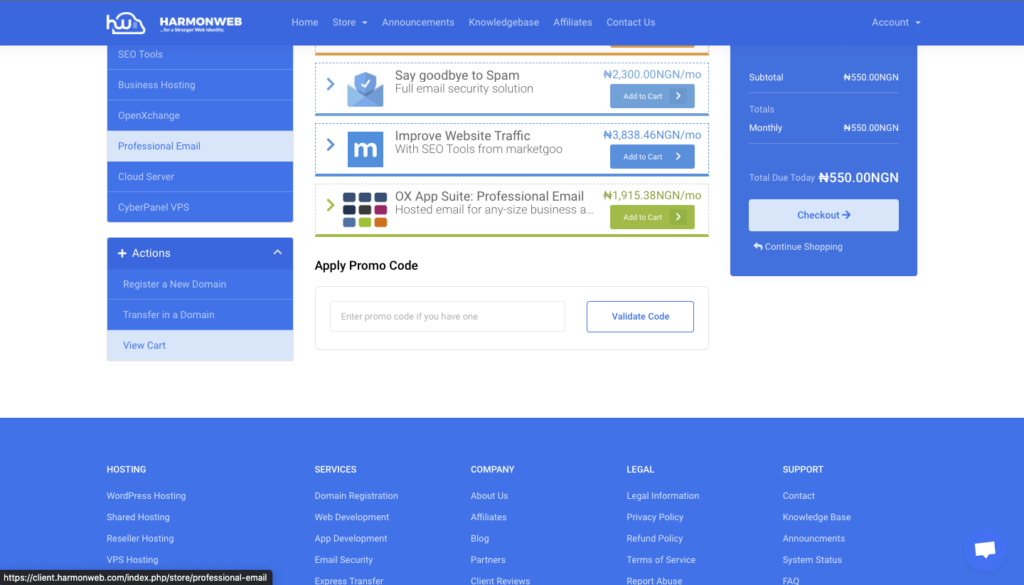 You can send email to HarmonWeb billing support at [email protected] requesting for if there's any discount code available.
Step 6: Checkout & Payment
This is where you will pay for the hosting and every other thing you ordered, but before that you have to register (if you dont have an account with HarmonWeb) but if you already have an account with HarmonWeb just click on the "Already Registered" button at the top, after filling all the login details then scroll down to the bottom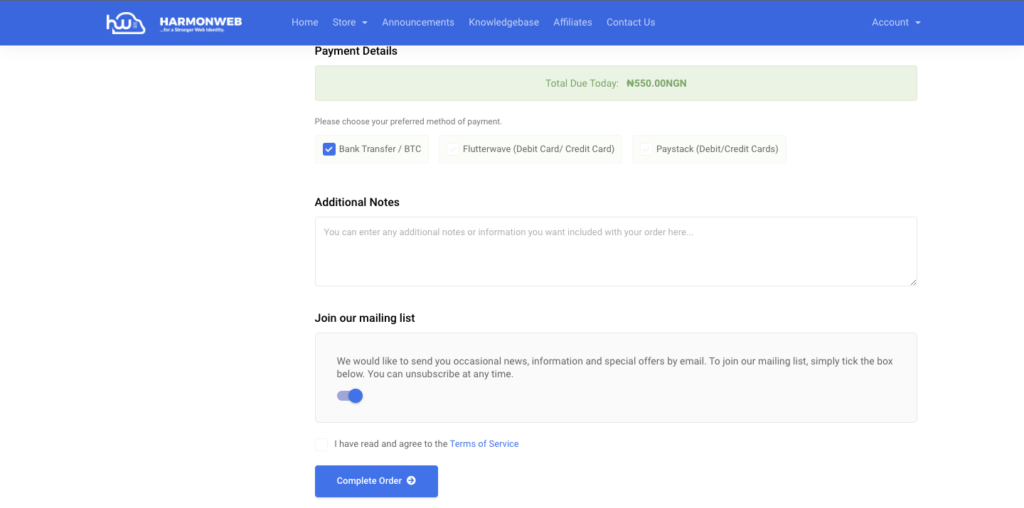 And you will see the different type of Payment Gateways we use (Paystack, Bank Transfer & Credit/Debit Card) so all you have to do is just to click on any of the payment gateways you want to use and click COMPLETE ORDER but before doing that make sure you leave the "JOIN OUR MAILING LIST" to YES though it is optional we recommend you do that so that if we have any discount to give out you will get a mail from us and you must check the box next to "I have read and agree to the Terms of Service" before clicking on COMPLETE ORDER.
After clicking the complete order button you will be taken to where you will pay (If you chose Paystack or Credit/Debit Card) and after the payment, your account will be active immediately and your site will be up and running.
And if you choose "Bank Transfer" you will be directed to your invoice where you will see our bank details to transfer your money to.
NOTE: If you choose Bank Transfer, After transferring to any of our Bank accounts, kindly send your proof of payment and your invoice number to [email protected].
We hoped this article helped you learn how to purchase hosting on HarmonWeb.
If you liked this article, then please subscribe to our YouTube Channel for more WordPress video tutorials. You can also find us on Facebook.