Do you want to Learn install WordPress on your Domain?
WordPress is a popular and powerful content management system that allows you to create and manage your own website or blog with ease. It is a flexible and customizable platform, which makes it a preferred choice for many website owners. If you are looking to install WordPress on your own domain, it may seem like a daunting task, especially if you have never done it before.
However, in this article we will show you how to install WordPress on your domain.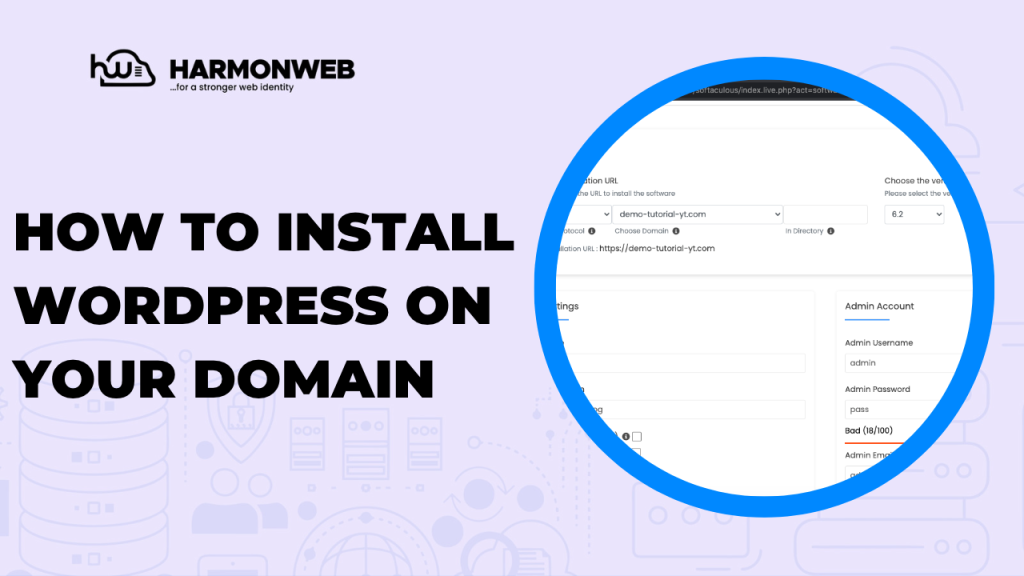 Why Use WordPress?
If you're planning to create a website, you might be wondering which content management system (CMS) to use. With so many options available, it can be overwhelming to choose the right one for your needs. Here are some reasons why people use WordPress:
One of the biggest advantages of WordPress is that it's user-friendly. Even if you have no technical skills or experience with website design, you can easily create a professional-looking website with WordPress. The interface is intuitive and easy to navigate, and there are many resources available online to help you get started.
WordPress is highly customizable, which means you can create a website that reflects your brand and vision. There are thousands of themes and plugins available that can be used to enhance the functionality and appearance of your site. Whether you want to create a simple blog or a complex e-commerce website, WordPress can accommodate your needs.
Search Engine Optimization
Search engine optimization (SEO) is crucial for any website that wants to be found online. WordPress is designed to be search engine friendly, which means your site will be more easily discoverable by search engines. Additionally, there are many plugins available that can help optimize your site for search engines, such as Yoast SEO.
WordPress has a large and active community of users who are always willing to help and share their knowledge. This community includes developers, designers, and other users who can offer guidance and support. If you run into any issues with your website, you can easily find help from the WordPress community.
Security is a top concern for any website owner. WordPress is known for its security features, and there are many plugins available that can help further enhance the security of your site. Additionally, WordPress releases regular security updates to address any vulnerabilities that are discovered.
As your website grows, you need a CMS that can accommodate your needs. WordPress can be used to create websites of any size, from small personal blogs to large enterprise-level sites. With WordPress, you can easily scale your website as your needs change.
How To Install WordPress
You can check out our Video Tutorial
1. Choosing a Domain Name and Hosting Provider
Before you can install WordPress, you'll need to choose a domain name and a hosting provider. Your domain name is the web address where your website will be located, while your hosting provider is the service that stores your website files and makes them accessible on the web.
When choosing a domain name, try to keep it short, memorable, and easy to spell.
To purchase a domain, you can refer to How to Purchase Domain on HarmonWeb. You should also choose a hosting provider that offers reliable uptime, good customer support, and easy WordPress installation. You can also refer to How To Purchase Hosting On HarmonWeb.
2. Login To Your Cpanel
First, you need to log in to your cPanel account. To do this, open your web browser and type in your website address followed by "/cpanel". For example, if your website is "www.example.com", the cPanel URL will be "www.example.com/cpanel". Enter your username and password to log in.
If you purchased your domain and hosting on HarmonWeb you can login to the client area here. When you login, click on services.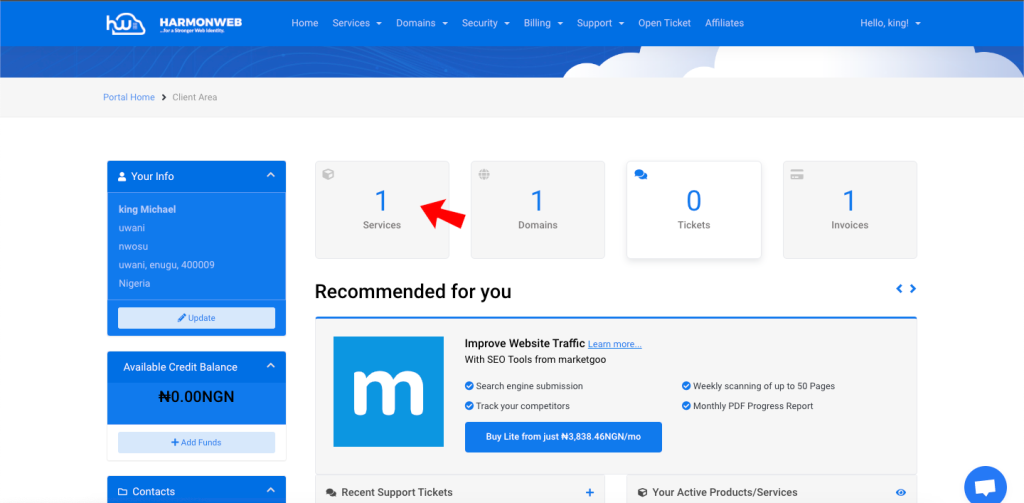 Then choose the hosting package if you purchased more than one hosting package then click on manage.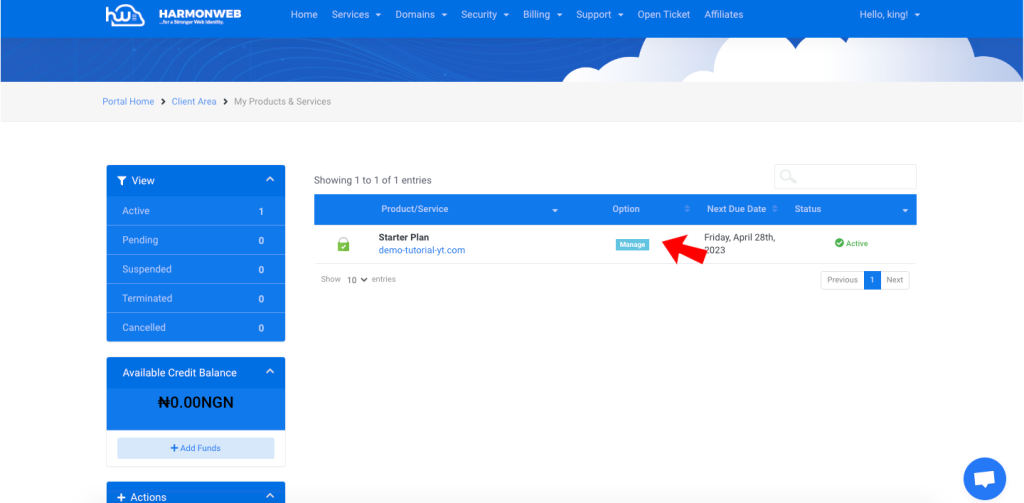 Scroll down and from the left sidebar, locate the " One Click Login" and click on Cpanel . This will log you in automatically to your Cpanel account without inputing your username or password.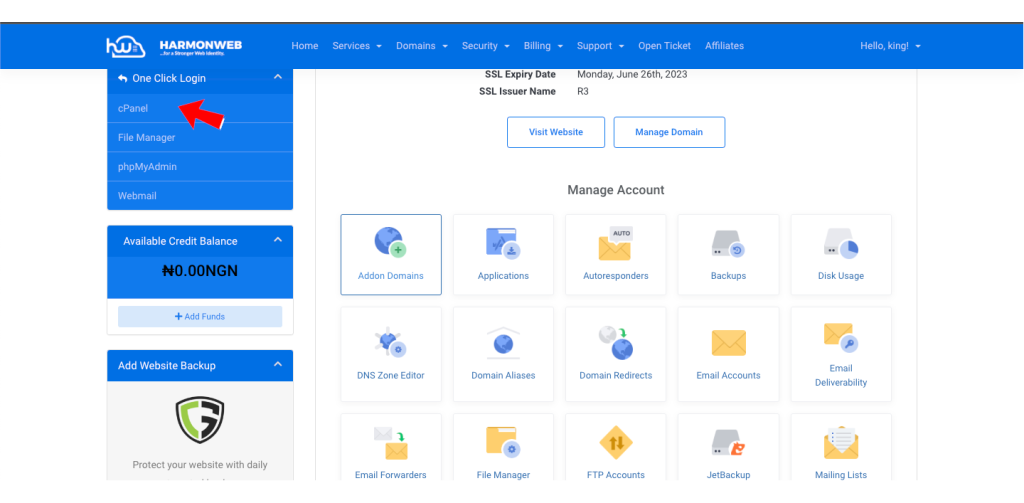 3. Access Softaculous Apps Installer
Once you are logged in, search for "Softaculous Apps Installer" and click on it. This will take you to the Softaculous page where you can find a wide range of popular web applications.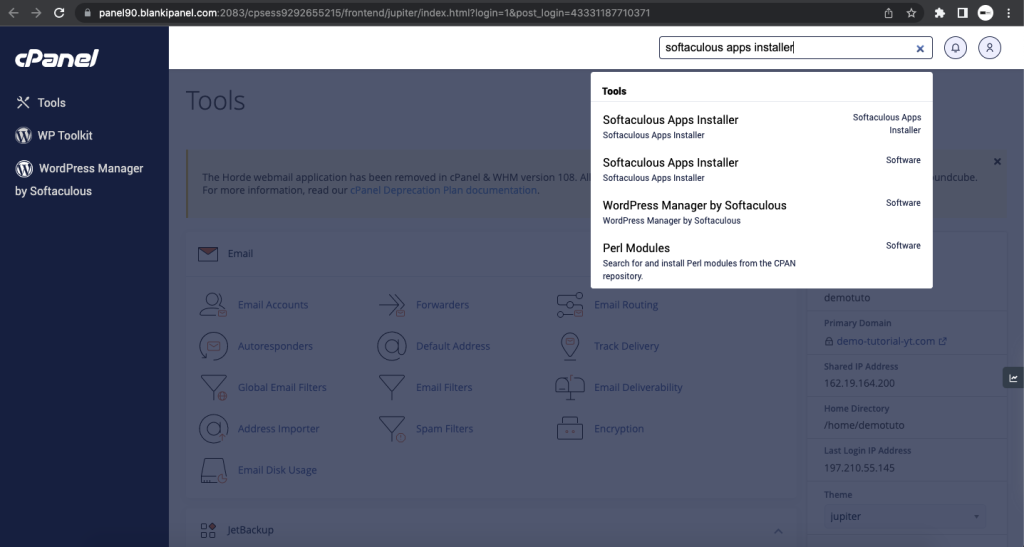 On the Softaculous page, look for the WordPress icon and click on the "Install" button to start the installation process.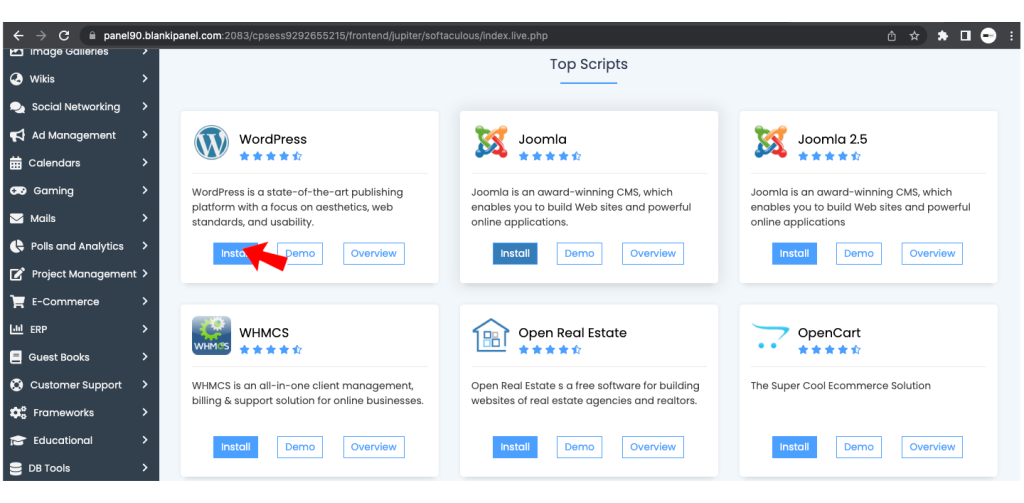 You will then be asked to fill in some information, such as the domain name, site name, and site description. Next, choose a username and password for your WordPress account. This will be your login credentials that you will use to access your WordPress dashboard.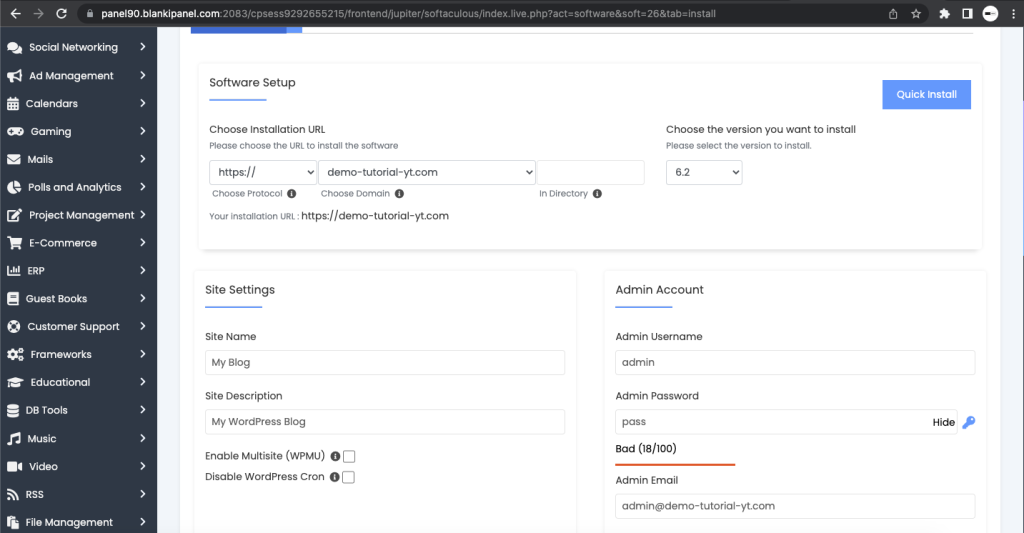 Finally, click on the "Install" button to start the installation process. Softaculous will automatically install WordPress on your domain, and you will receive a confirmation message once the installation is complete.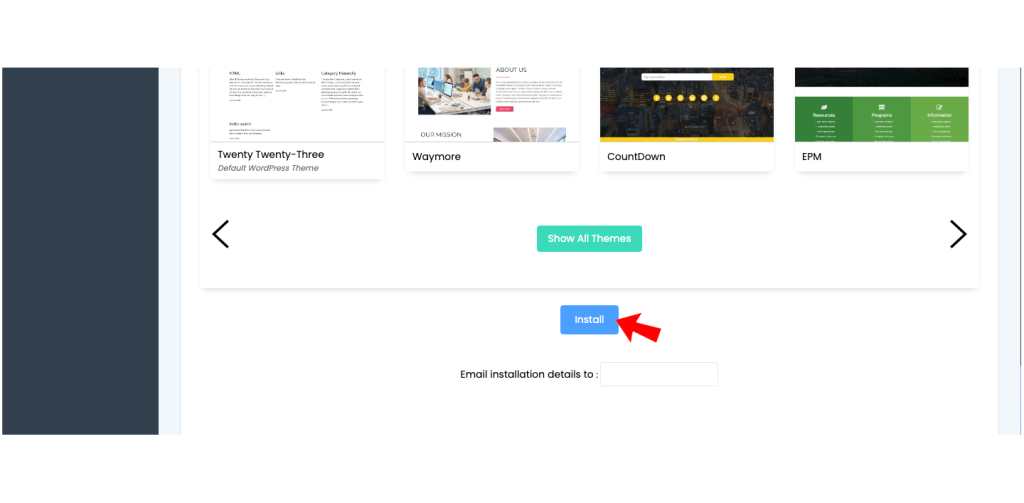 Once the installation is complete, you can log in to your WordPress site using the username and password you created during the installation process. You can access your WordPress dashboard by adding "/wp-admin" to the end of your domain name.
Installing WordPress on cPanel is a simple and straightforward process, and it can be done in just a few steps. With WordPress, you can create and manage your own website or blog with ease, thanks to its flexibility and customization options. By following the steps outlined in this guide, you can have your WordPress site up and running in no time.
If you liked this article, then please subscribe to our YouTube Channel for more WordPress video tutorials. You can also find us on Facebook.