Do you want to learn how to purchase a domain on HarmonWeb?
A domain is actually the path to your website. Without a domain a user cannot visit your website. In another words, it is called URL. When registering a domain name it is important to use strings of characters that people will remember easily.
In this article, we will guide you through steps on how to purchase a domain on HarmonWeb.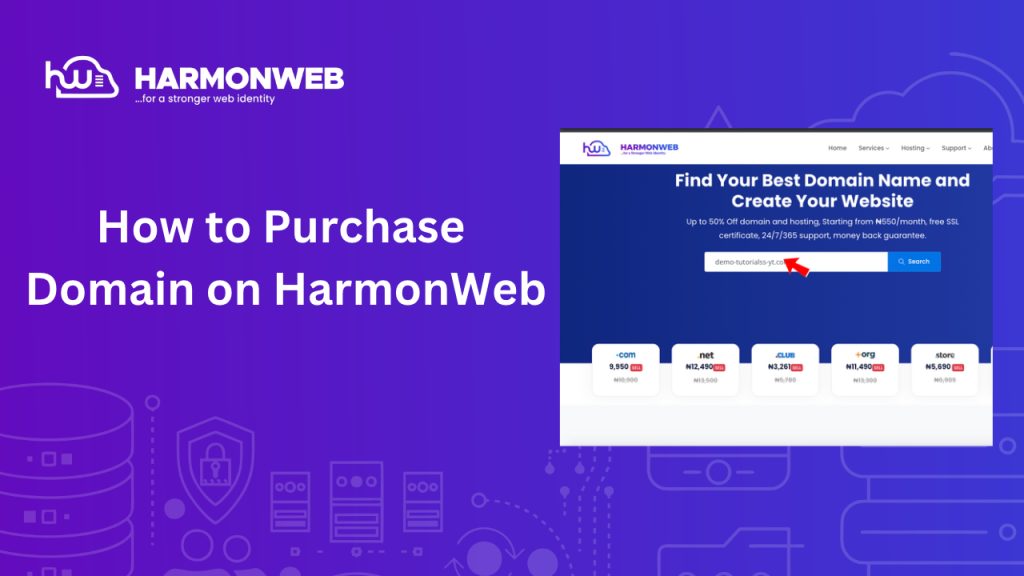 Why choose HarmonWeb for domain registration?
HarmonWeb offers competitive pricing for domain registration which are often lower than many other popular registrars. When registering a domain on HarmonWeb, you can choose the domain extensions like .com, .ng, .com.ng, .info and so much more that suits your brand.
HarmonWeb website is user friendly which makes it easy for users to navigateto register a domain. Also, HarmonWeb includes free WHOIS privacy protection with every domain registration, which helps to keep your personal information private and secure.
Steps on How to Purchase Domain on HarmonWeb
STEP 1: Search for and select your domain name
To get started, visit HarmonWeb website by searching the url "harmonweb.com" on your web browser. When you do that, you will be redirected to the homepage.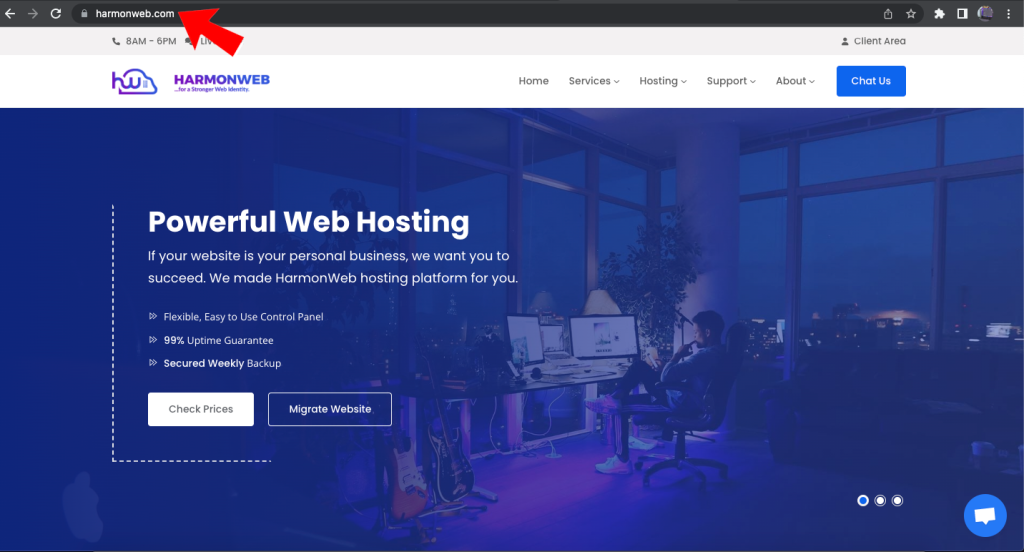 Next, hover on services from the menu and click domain registrations.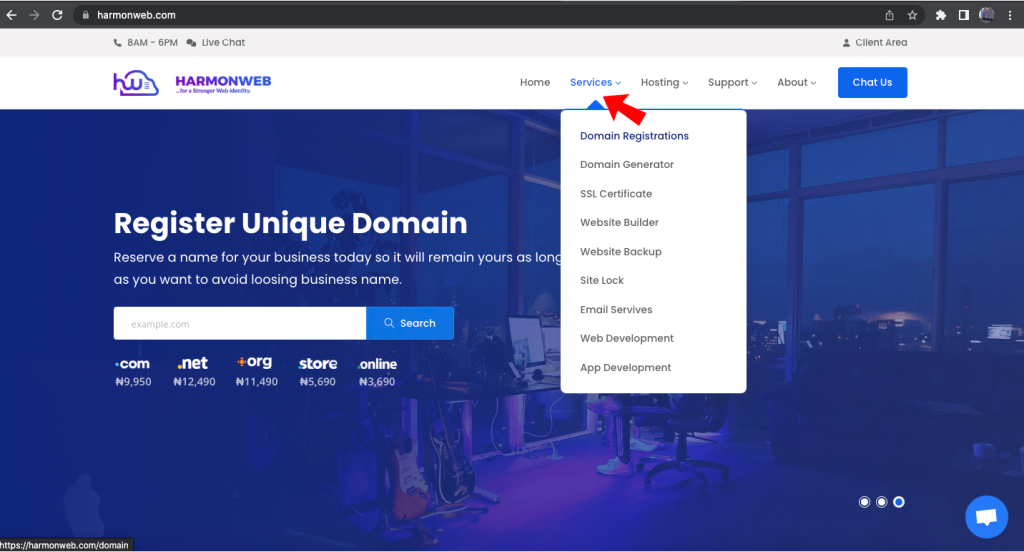 In this section, you can scroll down to view the list of domain extension and their prices. when you decide on the one you want to use, you can use the search option to search for the name you want to use for your website by adding your preferred domain extension.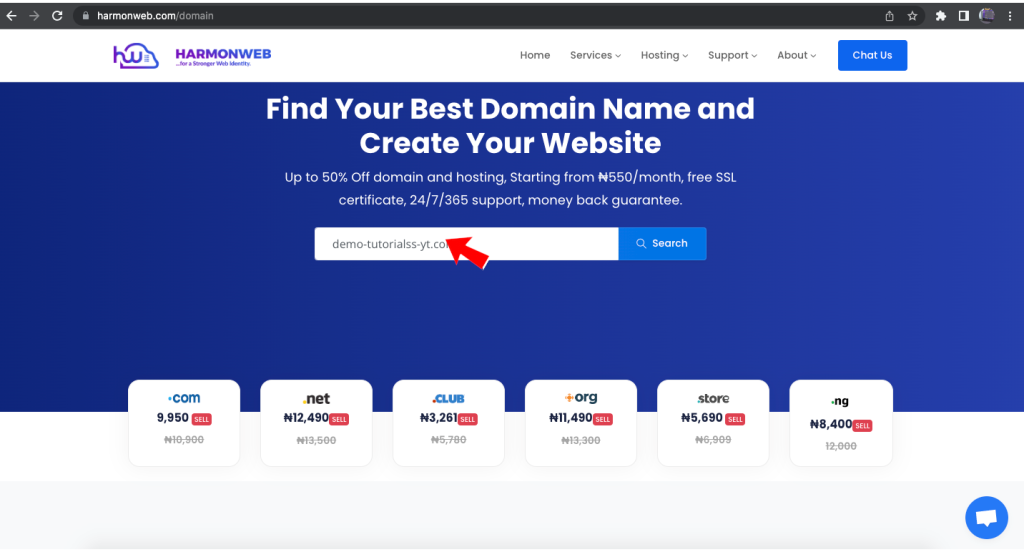 Please note that the price of a domain varies which means it can increase or reduce at anytime. But before that happens, an email will be sent to you stating the reason for a change in price and list of the new prices. When you type it, click on search button to continue to the next step.
Step2: Review and customize your domain order
In this step, first the domain checker will show you if the name you choose for the domain is still available or not. if it is not available, then choose a different name till you find the one that is available. or choose a domain extension that is available for that name.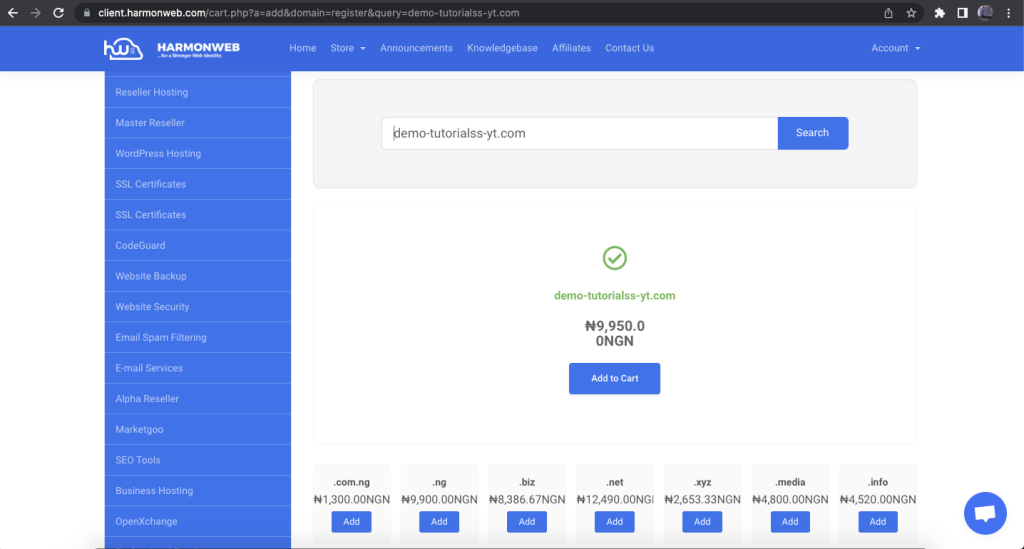 When you find the one that is available and it suits your taste or need. Click on add to cart and the check out.
Step 3: Choose additional domain options and services
In this step, you can actually select other domain services like ID protection which will hide your details from whois domain lookup. This ID protection is renewed monthly. You can also select DNS Management which is usually free no renewal fee attached.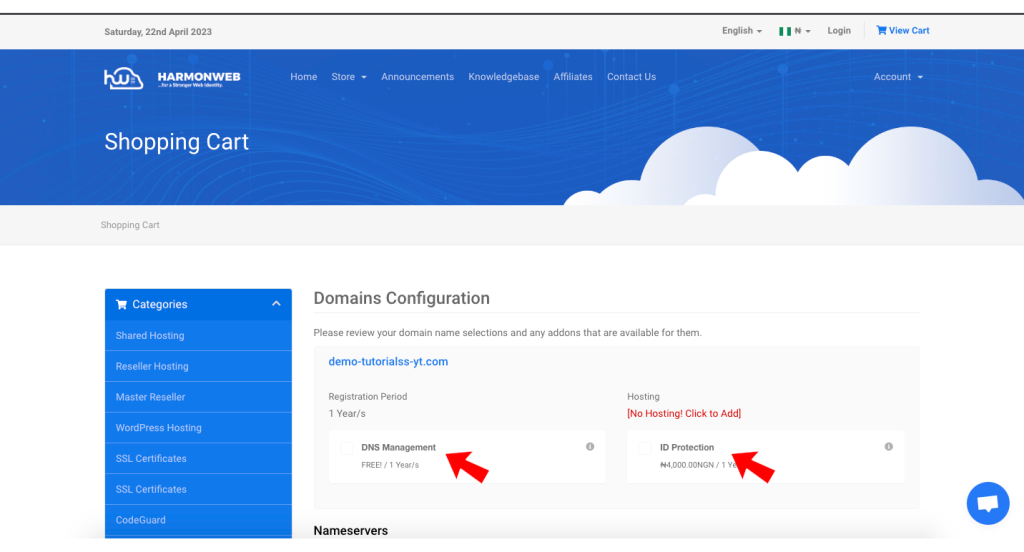 You can also change the Nameservers to the one given to you when you purchase a hosting. But if you do not want to purchase a domain yet. You can do that later after the order have been approved.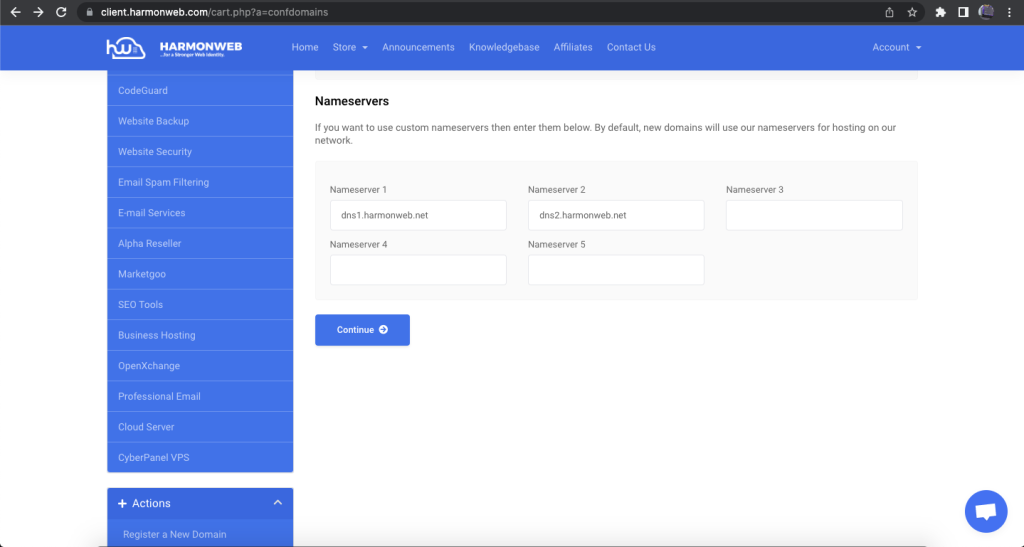 After you're done with that, click on continue.
STEP 4: Checkout and complete your purchase
In this section, you can click continue shopping if you want to purchase more that one domain. Also you can apply a promo code if you are assigned any by Harmonweb Billing Support.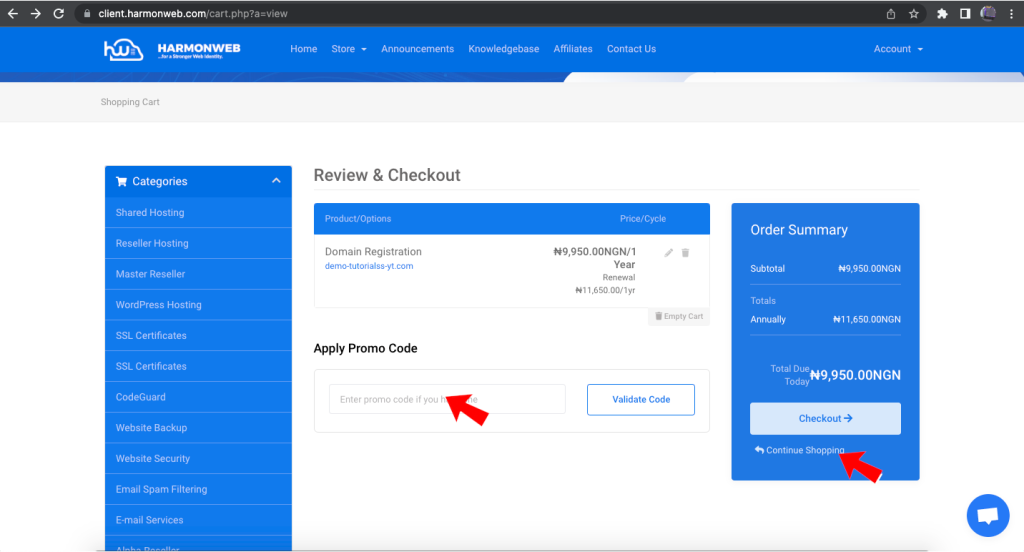 Next click on checkout to complete your purchase.
This is where you will pay for the hosting and every other thing you placed order for, but before that you have to register (if you dont have an account with HarmonWeb) but if you already have an account with HarmonWeb just click on the "Already Registered" button at the top, after filling all the login details then scroll down to the bottom.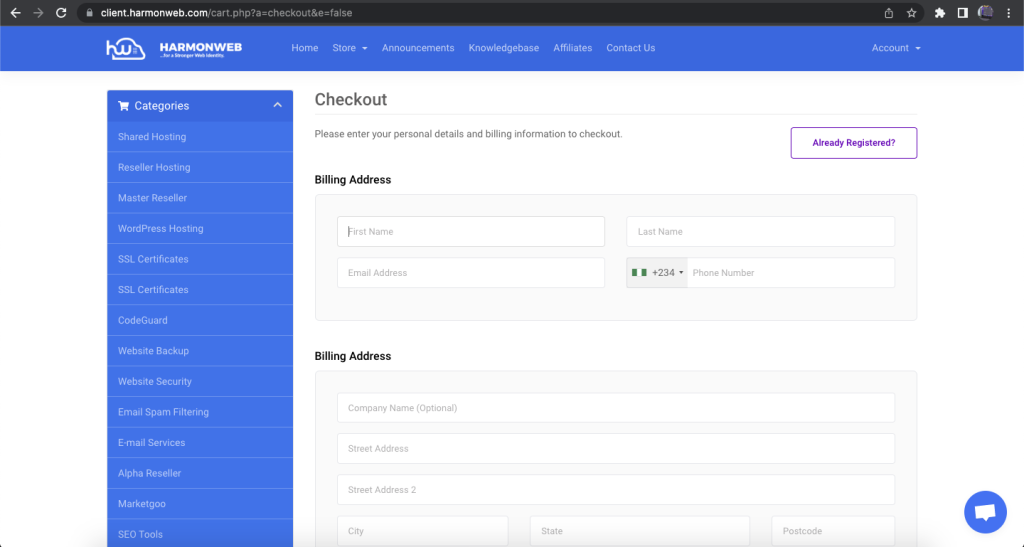 And you will see the different type of Payment Gateways we use (Paypal, Bank Transfer & Credit/Debit Card) so all you have to do is just to click on any of the payment gateways you want to use and click COMPLETE ORDER but before doing that make sure you leave the "JOIN OUR MAILING LIST" to YES though it is optional we recommend you do that so that if we have any discount to give out you will get a mail from us and you must check the box next to "I have read and agree to the Terms of Service" before clicking on COMPLETE ORDER.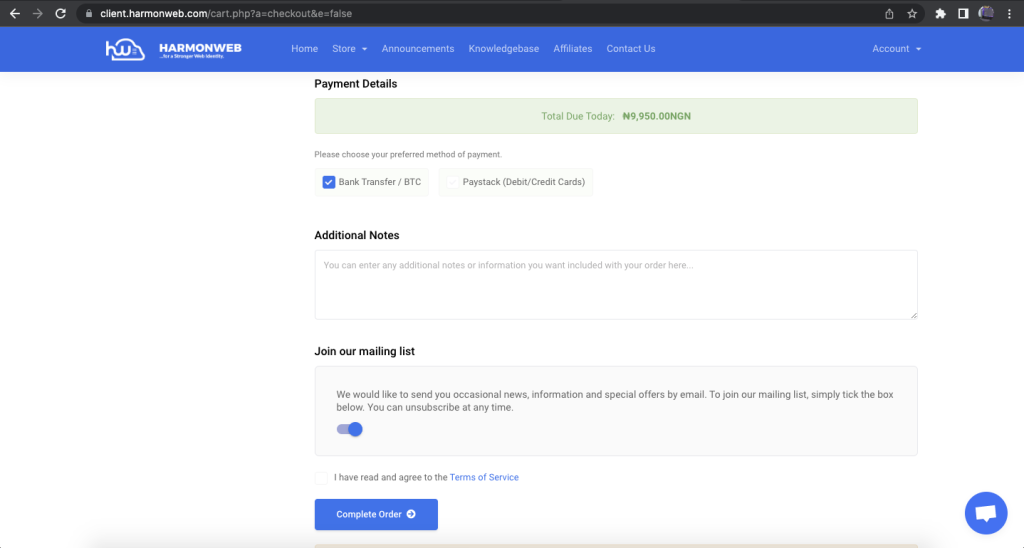 After clicking the complete order button you will be taken to where you will pay (If you chose Paypal or Credit/Debit Card) and after the payment, your account will be active immediately and your site will be up and running.
And if you choose "Bank Transfer" you will be directed to your invoice where you will see our bank details to transfer your money to.
NOTE: If you choose Bank Transfer, After transferring to any of our Bank accounts, kindly send your proof of payment and your invoice number to [email protected].
We hoped this article helped you learn how to purchase a domain on HarmonWeb.
If you liked this article, then please subscribe to our YouTube Channel for more WordPress video tutorials. You can also find us on Facebook.